Home
FINAL JUDGMENT FOR SARAJEVO CRIMES
On 12 November 2009, the Appeals Chamber will deliver the final judgment to VRS general Dragomir Milosevic. The Trial Chamber sentenced Milosevic to 33 years for the artillery and sniper terror campaign against Sarajevo. The prosecution has labeled the Trial Chamber's judgment inadequate, calling for life sentence, while the defense asked for the acquittal or for a milder sentence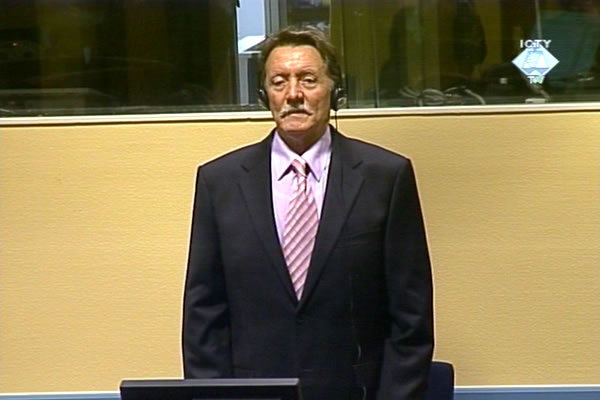 Dragomir Milosevic during the sentencing
The Appeals Chamber will deliver its final judgment to General Dragomir Milosevic on Thursday, 12 November 2009. The former commander of the VRS Sarajevo-Romanija Corps was sentenced to 33 years for the sniper and artillery terror campaign against Sarajevo from August 1994 to the end of the war in BH.
The Trial Chamber handed down its judgment to Milosevic on 12 December 2007. Both the prosecution and the defense appealed against the judgment. The prosecution, describing the sentence as 'obviously inadequate', asked for life sentence. The defense, on the other hand, urged for Milosevic's acquittal or for a significantly lighter sentence.
According to the prosecution, the sentence - 33 years in prison - does not reflect the gravity of the crimes. Compared to the time when Milosevic's predecessor Stanislav Galic served as the SRK commander, in Milosevic's time the terror campaign against the civilians in Sarajevo was 'more subtle, accurate and dangerous' and 'it calls for a life sentence'. Galic was sentenced to life for the crimes in Sarajevo between 1992 and mid-1994. As the prosecution notes, Milosevic upgraded the campaign introducing the so-called modified air bombs, an inaccurate but extremely destructive weapon.
On the other side Milosevic's defense argues that Sarajevo could not be considered as a civilian zone because of the presence of large numbers of BH Army and MUP personnel. SRK actions could therefore not be treated as attacks on the civilians. The hills around Sarajevo were controlled by the BH Army who 'terrorized' Serbs in Vogosce, Rajlovac, Ilidza and Grbavica, the defense argues. It was also the defense case that 'in an effort to gain the sympathy of the world the BH Army targeted its own people'.
The defense has challenged the Trial Chamber's conclusion that the Markale Town market was shelled from the SRK-held position on 28 August 1995. Thirty-four persons were killed and 78 were wounded in that incident. The judgment quoted a Sarajevo police officer who described what he had seen at the Markale as the 'last, deepest circle of Dante's Inferno'. The defense also contends that the Trial Chamber failed to take into consideration that at the time of the incident Milosevic was undergoing medical treatment in Belgrade following eye surgery. Because of that, Tapuskovic argues, the Markale charge should be 'dropped'.
The final judgment in the Milosevic case will be delivered just as the prosecution begins its case at the trial of Radovan Karadzic, former RS president and supreme commander of the VRS. According to the list of witnesses scheduled to testify in the first two months of the trial, the prosecution will first call evidence on Sarajevo.