Home
PLANNED "UNBEARABLENESS"
Richard Butler, OTP military analyst, continues his evidence at the trial of the Srebrenica Seven, Bosnian Serb military and police officers charged with Srebrenica crimes. In the summer of 1995, before the eastern enclaves fell, there were 'planned and deliberate' preparations for the implementation of Karadzic's Directive no. 7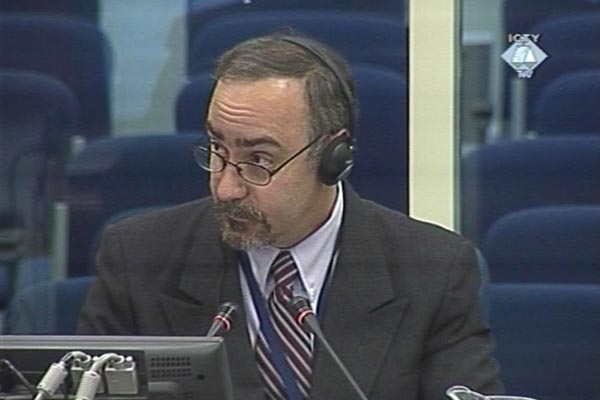 Richard Butler, witness in the trial of the former military and police officials for the crimes in Srebrenica
The prosecution today showed a number of documents to military analyst Richard Butler. Those documents referred mainly to the period from late June to 12 July 1995, the period on the eve of and during the VRS attack on Srebrenica. According to Butler's analysis, in that period the VRS 'successfully cut off Srebrenica and Zepa' in its effort to reduce the protected enclaves to 'urban area'.
According to Butler, the population of the enclaves was under pressure as part of the implementation of the famous Directive number 7, issued in March 1995 by Radovan Karadzic, RS president. The Directive ordered the Drina Corps to create an 'unbearable situation of total insecurity, with no hope of further survival or life for the inhabitants of Srebrenica or Zepa'.
UNPROFOR Dutch Battalion personnel was not spared either. As Butler analyzed documents – orders from the Main Staff and transcripts of intercepted phone conversations – he concluded that UN personnel had been under constant pressure too. The VRS however refrained from attacking UN check points directly. It opened fire in their immediate vicinity and intimidated Dutch Battalion personnel by calling them to surrender.
Mladic's forces soon used captured UN troops as hostages. The VRS command threatened it would kill the captured 'blue helmets' if NATO planes didn't immediately stop their air strikes against Serbian positions. The documents the prosecution showed Butler mainly refer to the accused general Gvero as the person who liaised with the UN. Butler did clarify that 'only the VRS commander' – General Ratko Mladic – could make such a threat.
Documents also showed that the VRS intended to launch so-called modified air bombs at the UN positions in Potocari. Modified air bombs, known as 'sows', are low-accuracy weapons of great destructive power. They were used in attacks on Sarajevo in 1994. The OTP military analyst didn't confirm that these bombs had been launched on UNPROFOR troops in Potocari on 6 July 1995, as was indicated in the artillery plan drafted in the Drina Corps command and signed by the then commander, General Milivoje Zivanovic.
The prosecution will continue its examination-in-chief of Richard Butler until the end of this week.