Home
WHAT DID COLONEL PANDUREVIC KNOW?
As Richard Butler's testimony draws to its close, Vinko Pandurevic's defense tries to get him to confirm its argument that in July 1995 former VRS Zvornik Brigade commander wasn't aware of the plan to arrest and execute Bosniaks prisoners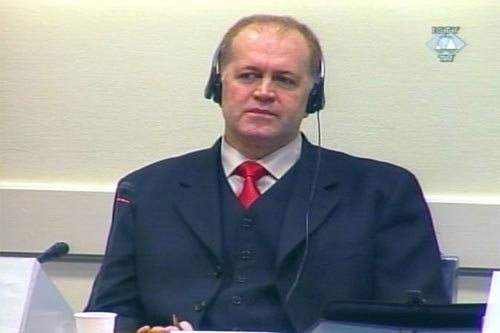 Vinko Pandurevic in the courtroom
Peter Haynes, Vinko Pandurevic's defense counsel, showed the OTP military analyst an interim combat report drafted on 15 July 1995 where the Zvornik Brigade commander informs the Drina Corps command that his 'units are taking part in securing and burial of the bodies of hundreds of prisoners'. 'Unless they are provided assistance in the operation,' the commander goes on to say, 'I would let the rest of the prisoners go'. This report is listed in the count of the indictment charging Pandurevic with 'conspiracy to commit genocide'.
The British lawyer claims that the contents of the report could be given a different interpretation. According to him, it was only then, after he arrived in the Zvornik Brigade area of responsibility from Zepa, that Pandurevic learned of 'the huge number of prisoners captured in the Zvornik area'. He was not aware of any plans for their liquidation. According to Haynes, this can be concluded from the fact that Pandurevic wrote openly about the prisoners despite the order instructing soldiers and officers to use 'euphemisms' to conceal the real message. For instance, Colonel Ljubisa Beara referred to prisoners as 'parcels' he was supposed to 'distribute'.
Butler agreed that the interpretation put forward by the defense 'was considered plausible for a long time' by the team working on the case. 'We spent months, almost a year, searching for information to corroborate this interpretation', he said, adding that the deeper they went, the less plausible the interpretation was.
When he analyzed this document, Butler said he was aware of the fact that 'colonel Pandurevic was among the most competent VRS commanders', expected to ask more questions about the prisoners he was to report on, especially if that was the first time he heard about them, as the defense claims. 'This was not because he liked or disliked the prisoners,' Butler said, but for practical reasons: he wanted to know where they were detained, how much food was needed to feed them, how this would be organized and who would be in charge, because they were in the area of responsibility of his brigade.
Butler claims that he and his analysts didn't find any evidence, documents or intercepted conversations that would indicate Pandurevic made detailed enquiries about the Bosniak prisoners or organized their accommodation.
The military analyst's testimony is expected to be finished tomorrow, after the re-examination by the prosecution.