Home
IMPARTIAL OBSERVERS?
The defense teams of the Bosnian Serb military and police officers on trial contest the objectivity of the reports drafted by UN military observers who witnessed the fall of the Srebrenica enclave in July 1995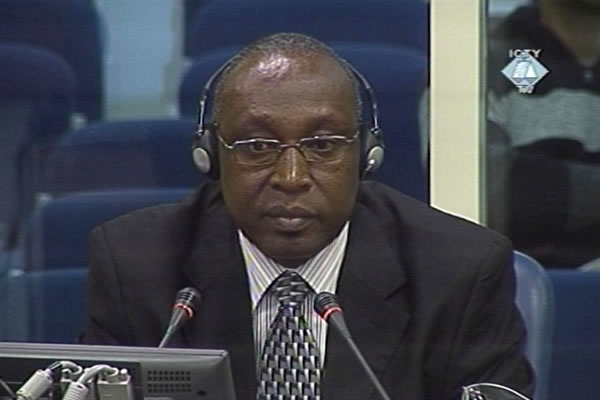 Joseph Kingori, witness in the trial of the officials charged with the crimes in Srebrenica
The trial of the Bosnian Serb military and police officers charged with crimes in Srebrenica and Zepa continued with the cross-examination of Kenyan colonel Joseph Kingori. As a UN military observer, Kingori witnessed the fall of the Srebrenica enclave in the summer of 1995.
In his examination-in chief, completed just before the Tribunal's winter recess, Kingori described the events in the UN-protected zone before and after the attack of Mladic's forces in July 1995. UNPROFOR could not protect the Bosniaks from the VRS forces. In Kingori's words, the VRS 'openly told the Muslims to leave the enclave or to be expelled by force'.
The defense claims that in the summer of 1995, Kingori and the UN military observers didn't carry out the task they were set after Srebrenica was declared a demilitarized zone protected by the UN. The defense counsels of Vujadin Popovic and Ljubomir Borovcanin showed to the witness a series of documents from the BH Army command that speak about 'cannon, heavy artillery and mortars' being 'supplied to the Bosniaks in the enclave'. The witness was adamant that the weapons surrendered by the Bosniaks were kept in the Dutch Battalion warehouse. He was not aware of the heavy artillery mentioned in the documents he was shown.
According to the defense, the Bosniak forces in Srebrenica had 'a tight military structure' and 'clear areas of responsibility', but Kingori noted this had not been the impression of the military observers. The Kenyan colonel explained that their reports to the superior commands made no mention of any organized attacks by armed Bosniak groups on VRS positions around the enclave because 'the military observers were not aware of that'.
'If all these facts are correct, I really don't understand how we didn't know about that', Kingori said. According to him, the BH Army command might have presented an unrealistic picture of the situation in an effort to justify its losses. Concluding his cross-examination, Vujadin Popovic's defense counsel asked Kingori if he, a UN military observer in Srebrenica in 1995, was impartial. 'There is no doubt about that', Kenyan colonel replied, adding that he could guarantee this applied to the whole mission he was part of. In Srebrenica, Kingori maintained contacts with both sides and was thus able to file reports that were impartial.