Home
DELIC RAPE CHARGE TO REMAIN
The Trial Chamber hearing the case against General Rasim Delic dismisses 'in the interest of justice' the prosecution motion to drop the rape count from the indictment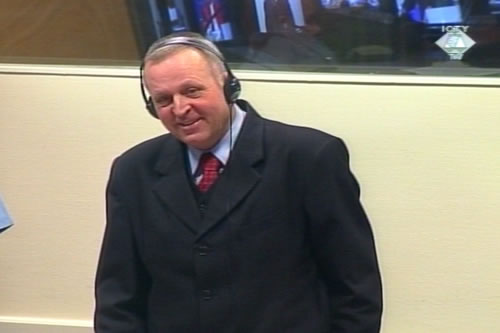 Rasim Delic in the courtroom
The Trial Chamber hearing the case against General Rasim Delic dismissed the prosecution motion to drop the count charging the former commander of the BH Army General Staff with rape. As the presiding judge Moloto said, this decision was made 'in the interest of justice', because the accused had already pleaded not guilty to all counts in the indictment including rape and the prosecution had already called evidence on that count.
The presiding judge explained that to drop this count at this stage of the trial would put the accused in a situation where he might be tried twice for the same offence if some other court decided to charge him.
The count describes how three Serbian women were captured during the attack of the BH Army on Vozuca on 11 September 1995. They were then taken to the El Mujahid Detachment camp in Kamenica where they were physically abused, sexually assaulted and raped.
The prosecution filed the motion to drop the charge after protected witness DRW-1 refused to appear at the trial and give her evidence about what had happened to her. The reason for the motion was the wish to protect the victim from possible contempt charges if the Trial Chamber decided to subpoena her to testify.
The Trial Chamber solved this problem by granting the prosecution's request to admit into evidence the statement of Witness DRW-1 with parts relating to rape redacted. As the defense decided not to cross-examine her, the witness will not have to appear before the court.
Despite the decision of the Trial Chamber not to drop any charges from the indictment at this stage of the trial, the prosecution will most likely not call any evidence related to rape. The prosecution will rest its case in January 2008, after the Tribunal's winter recess, it was announced.