Home
REPORTS TO SUPERIOR COMMAND CONTAINED 'MERE RUMORS'
Former member of the BH Army Security Service confirms he knew that the El Mujahid Detachment prohibited the BH Army troops to visit the prisoners they held in their camp. The defense points to opposite examples, claiming that reports of the military security service often contained 'mere rumors'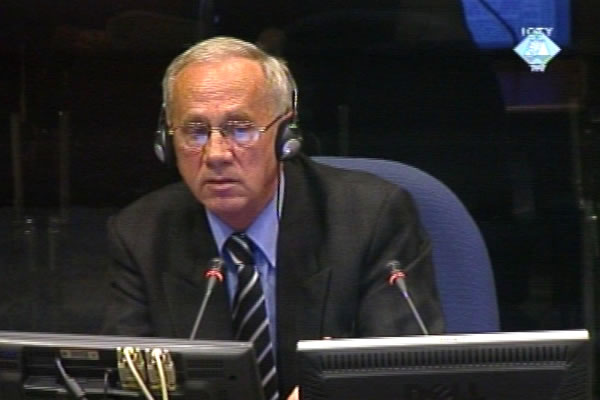 Ekrem Alihodzic, witness in the Delic trial
From late March to mid-August 1995, Ekrem Halihodzic was assistant commander of the BH Army 3rd Corps for security. Testifying at the trial of General Rasim Delic, he confirmed that in July 1995 he learned from the reports of subordinate security services that the El Mujahid Detachment held prisoners of war in their prison and that 'some members of the Detachment' did not allow the BH Army 3rd Corps security service to visit the prisoners.
On the basis of the documents the prosecution showed to the witness, he confirmed that information of this kind was forwarded to the Security Administration in the General Staff. He couldn't say with certainty whether those reports were then sent to the Administration headquarters in Sarajevo or to the forward command post in Kakanj. 'I wouldn't want to sin, against myself or anyone in this court', he said.
In the cross-examination, the defense tried to prove that the crimes blamed on the El Mujahid Detachment were in fact committed by the members of other Arab formations operating in that area. Some of the documents sent to the Security Administration talked about the Mujahideen incidents note that those incidents 'should not be discussed outside of the service'. The witness couldn't tell who added those instructions.
The witness was then shown the document saying that the military security service members interviewed prisoners of war held in the prisons of the El Mujahid Detachment several times and informed the Security Administration accordingly.
One of the documents shown in court describes an incident when an unnamed member of the El Mujahid Detachment came to the 35th Division command, called a BH Army soldier by name and threatened 'to slaughter' him because he was Croat. According to the defense, this incident gave rise to a rumor that the members of this detachment wanted to 'kill all Croatian and Serbian' members of the BH Army. This explained how this information found its way into one of the documents sent to superior services.
The witness agreed that the description of the incident as it was reported to the superior command had been completely altered. When Vasvija Vidovic, Delic's defense counsel asked him to comment on the fact that 'mere rumors' often found their way into reports sent to the security service, the witness replied, 'the whole war broke out because of the rumors'.