Home
'SOUR FEAST' FOR MUJAHIDEEN
Aiman Awad, former member of the El Mujahid Detachment member, continued his evidence at the trial of Rasim Delic, former commander of the BH Army General Staff. Awad described the farewell feast prepared by the BH Army for the Mujahideen as 'the sourest' in his life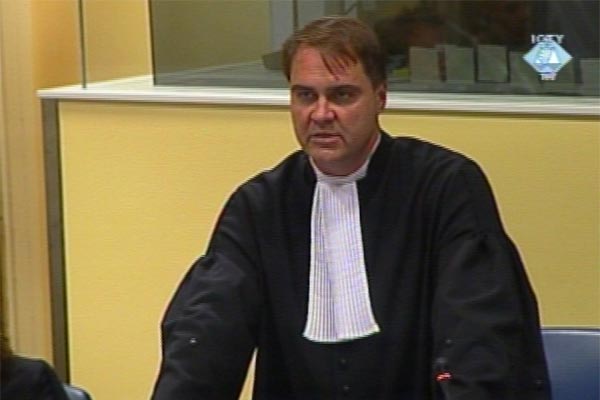 Daril Mundis, prosecutor in the Tribunal
As his evidence continued, Aiman Awad, who served in the El Mujahid Detachment as an interpreter, confirmed that General Rasim Delic was present at the 'farewell feast' prepared by the BH Army for the Mujahideen on 1 January 1996 in Zenica. Awad 'couldn't remember' if the former commander of the BH Army General Staff mentioned that the detachment had been 'part of the BH Army chain of command'.
The witness first described the meeting of the Mujahideen with BH president Alija Izetbegovic in early December 1995 in Zenica. On that occasion, they were told that the Dayton peace accords would be signed soon. The El Mujahid Detachment would be disbanded and all foreign fighters would have to leave the country. General Rasim Delic and General Sakib Mahmuljin also attended this meeting.
At the meeting, the detachment commander Abu Mali tried unsuccessfully to convince Izetbegovic that 'peace would not be a good thing at that particular moment'. Delic didn't speak at the meeting, except to 'reminded the president of what was agreed in Dayton' when it seemed that Izebegovic was getting soft towards the Mujahideen.
After the Dayton accords were signed, the El Mujahid Detachment handed over 'every single bullet' to the BH Army 3rd Corps. A 'farewell feast' was organized in the Army Cultural Hall in Zenica, as a token of gratitude for their 'contribution to the struggle'. Izetbegovic and Delic attended it, along with a number of high-ranking BH Army officers. 'It was the sourest feast of my life', the witness said, and burst into tears before the Trial Chamber. His evidence had to be suspended for a short while.
The witness confirmed that General Delic was one of the speakers to address the Mujahideen gathered there that evening. He 'couldn't remember' if the former commander of the BH Army General Staff said anything else apart from thanking the Mujahideen for their contribution in the defense of BH.
The prosecutor was expected to show the witness a recording of Delic addressing the Mujahideen at the 'farewell feast'. In the recording, Delic explicitly says that the El Mujahid Detachment was part of the BH Army chain of command. The prosecutor didn't show the recording whose authenticity was contested by the defense. The recording was nevertheless admitted into evidence through a protected witness who wasn't able to confirm that the voice on the recording really belonged to Delic.
The trial of General Delic briefly moved out of the courtroom in The Hague into the BH State Court in Sarajevo. The witness will be cross-examined by the defense of the former commander of the BH Army General Staff tomorrow.