Home
PROSECUTION DROPS RAPE CHARGES
As protected witness DRW-1 refuses testify at the trial of General Rasim Delic, the prosecution wants to drop the rape charges from the indictment. Presiding judge Moloto warns this could jeopardize the rights of the accused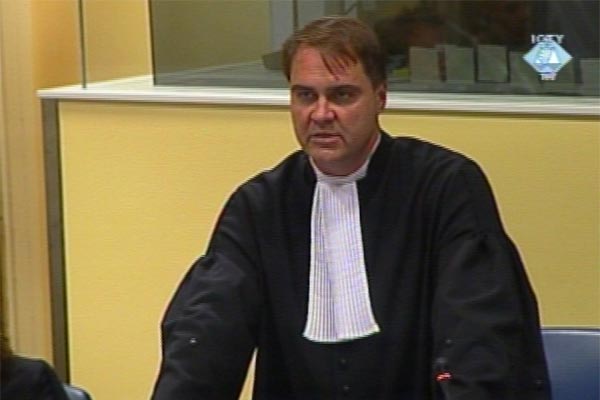 Daril Mundis, prosecutor in the Tribunal
At the trial of Rasim Delic, former commander of the BH Army General Staff, the prosecution today asked to drop the rape charge from the indictment. Prosecutor Daryl Mundis explained that the motion followed the refusal of the key witness for this count in the indictment to come and testify before the Tribunal.
This part of the indictment alleges that three Serbian women were captured in the course of the attack on Vozuca on 11 September 1995. They were later transferred to the El Mujahid Detachment camp in Kamenica where they were subjected to physical and sexual abuse and rape.
The written statement given by one of the victims was admitted into evidence by the Trial Chamber on 27 November 2007, and the witness was ordered to appear in court to be cross-examined. If the Trial Chamber issues a subpoena to testify, the witness could face the charge of contempt of court. As prosecutor Mundis said today, this is just what the prosecution wants to avoid.
Presiding judge Bakone Moloto warned the prosecutor that the decision to drop a charge from the indictment at this late stage of the trial might jeopardize the rights of the accused to get a verdict for an offence he had already pleaded not guilty to. Furthermore, some evidence related to this crime has already been called. If the Trial Chamber does not acquit or convict the accused of the rape charge – and this is what would happen if the charge is dropped – the accused might be tried twice for the same offence.
Judge Moloto expressed his surprise at the prosecutor's request. Before the trial began, he recalled, the prosecution appealed against the decision of the Trial Chamber to cut the witness list. The prosecutor commented tersely that he 'will never forget this'.
As the hearing continued on in closed session, the public was left in the dark as to the position of General Delic's defense on this issue.
The prosecution today used up all the time allotted to it for its case. The Trial Chamber granted eight additional hours to examine the rest of the witnesses. It is expected that Aiman Awad, the key witness for the prosecution, will be called to testify immediately after the Tribunal's winter recess.