Home
CRIMES WENT UNREPORTED
Prosecution witness Muris Hadziselimovic claims that no criminal reports were filed to the district military prosecutor's office in Zenica for crimes committed by the Mujahideen in the Zavidovici area between 1993 and 1996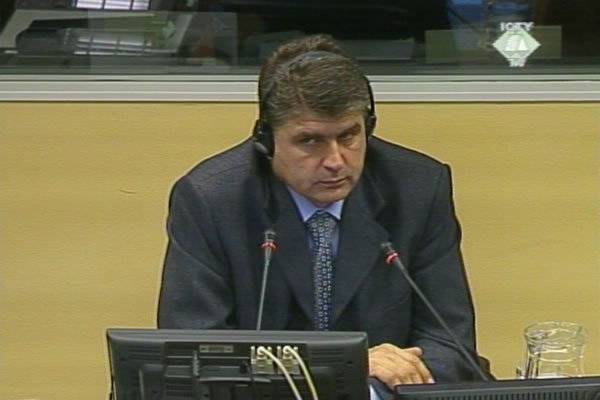 Muris Hadziselimovic, witness in the Delic trial
Muris Hadziselimovic, chief prosecutor for the Zenica-Doboj Canton, claims that between 1993 and 1996 the district military prosecutor's office in Zenica did not receive any criminal reports about the crimes committed by the Mujahideen in the Zavidovici area.
In 1995, Hadziselimovic was a deputy district military prosecutor in Zenica. The wider Zavidovici area was under his jurisdiction. General Rasim Delic is charged on the basis of command responsibility with crimes committed by the members of the El Mujahid Detachment there.
The witness's claims are based on the report drafted by the public prosecutor's office for the Zenica-Doboj Canton. The report, which was admitted into evidence through this witness, is based on an analysis of the documents in the Zenica military prosecutor's office. It shows that no criminal reports were filed for crimes committed against Croatian and Serbian soldiers and civilians in the villages of Bikosi and Maline and other places in Central Bosnia.
When judge Harhoff asked him why, in his opinion, no criminal reports were found among the documents in the archives, the witness said he didn't know. He learned about the murders committed in those places for the first time from the OTP investigators.
In his cross-examination, the defense contested the findings and conclusions of the report. There are other documents, the defense contended, that show that more criminal reports were filed than is stated in the report. Some of those documents show that some of the cases involving Mujahideen crimes were actually brought to trial.
In his examination-in chief, the witness clearly stated that all criminal reports arriving in the military prosecutor's office were registered. The defense then noted that a box containing 22 unregistered cases was found in one of the archives. Everything was registered in the logbooks, the witness replied, except for the contents of this box. It contained cases related to the shelling of Tesanj and Doboj.