Home
QUESTIONING PRISONERS OF WAR
Former operations officer from security service in the BH Army 3rd Corps testifies at the trial of Rasim Delic. In 1995, he interrogated the captured Serbian soldiers several times. Among them were three VRS soldiers captured by the Mujahideen in the BH operation in Vozuca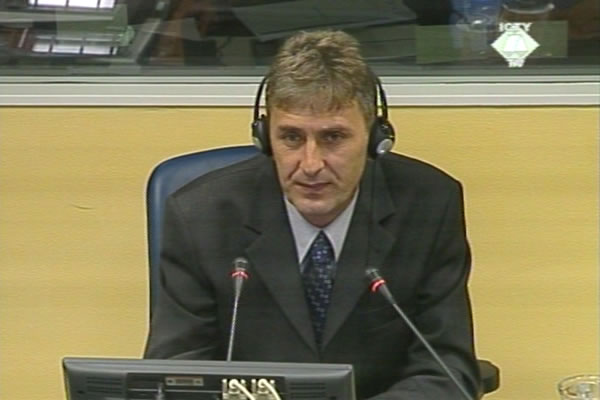 Edin Saric, witness in the Delic trial
The trial of Rasim Delic continues with the evidence of Edin Saric, former operations officer in the counter-intelligence section of the BH Army 3rd Corps Security Service. On several occasions, he questioned the prisoners of war. Among them were Krstan Marinkovic, Velibor Trivicevic and Branko Simic, three VRS soldiers captured by the Mujahideen during the BH operation in Vozuca. According to their evidence at this trial, they were captured and subsequently tortured and abused in the El Mujahid Detachment camp in Gostovici near Zavidovici.
In his examination-in chief, the witness said that he had heard unconfirmed rumors about the Mujahideen fighting for the BH Army in 1993. He got official confirmation of their existence only after he took up his post in the 3rd Corps. He wasn't much interested in Mujahideen, he says, because his job was related to the questioning of Serb-Montenegrin prisoners of war. According to him, his superior Osman Vlajcic was tasked with gathering information about the Mujahideen.
Through his testimony, the prosecution tendered into evidence a series of records of the interrogations carried out in the KP Dom in Zenica. These show that some of the prisoners of war, before they were taken to the BH Army detention center in Zenica, had spent some time in the hands of the Mujahideen. The prosecution wants to prove that the records were sent to the Security Administration in the BH Army General Staff and that General Delic was aware of them.
The witness said that he had forwarded all records of his questioning of the prisoners of war to his superior officer in the counter-intelligence department. He in turn forwarded them to the Security Administration. The witness did note that the information sent to the General Staff had previously been filtered.
In its cross-examination, the defense pointed to the fact that none of the documents mentioned any torture or abuse of the captives. This was confirmed by the witness who was sure that, had that been the case, he would have mentioned it in his reports.
The contents of the records of the interrogation of the prisoners of war were not made public because the witness gave evidence on the basis of the statement he gave to the OTP investigators earlier this year. The statement was admitted into evidence against Rasim Delic, former commander of the BH Army General Staff.
The cross-examination of this witness continues tomorrow.