Home
"ARABS" KIDNAPPED PRISONERS TAKEN BY BH ARMY
Ahmet Sehic, former commander of the 5th Battalion in the BH Army 328th Mountain Brigade, continues his evidence at the trial of Rasim Delic. The captured Serbian soldiers were snatched by Arabs from the BH Army troops in the village of Kesten on 11 September 1995. He is not sure whether the Arabs were members of the El Mujahid Detachment or some other foreign fighter group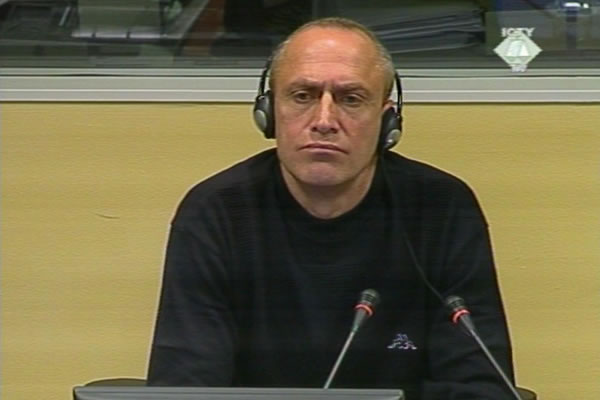 Ahmet Sehic, witness in the Delic trial
Ahmet Sehic, former commander of the 5th Battalion in the BH Army 328th Mountain Brigade continued his testimony at the trial of Rasim Delic. The group of some 50 captured VRS soldiers was snatched from the BH Army troops by the Arabs in the village of Kesten on Mount Ozren on 11 September 1995, he said. He was not sure if the Arabs belonged to the El Mujahid Detachment or to some other group of foreign fighters operating at that time in the Zavidovici area. The prosecution alleges the el Mujahid Detachment was part of the BH Army chain of command.
In the first part of his evidence, the witness stated he had personally visited the village after learning that some 50 VRS soldiers had been captured. On arrival, he described today, the BH Army troops and the captured VRS soldiers were surrounded by a group of some 20 Arabs. They claimed that the captives were 'theirs'. Outnumbered by the Arabs, the troops from his battalion were not able to protect the captured VRS soldiers. They were afterwards taken away by the Arabs.
After the Arabs left, there were only two captured ethnic Serb civilians left in the Kesten village, the witness recounted. They were boys, aged 14 and 17, who were handed over to the BH Army military police later that day and were subsequently exchanged. Later in the afternoon, on his way back to the headquarters, he saw a large group of prisoners in the village of Krcevine, the witness recalled. They might have been Serbian soldiers who had been kidnapped by the Mujahideen but he couldn't tell with any certainty because he could only see their backs.
When he got back to the headquarters, he ordered his assistant for military morale to write a report on the kidnapping of captured Serbian soldiers and forward it to the superior service in the 328th Mountain Brigade command. He himself told brigade commander Fuad Zilkic about the incident in Kesten.
The indictment against Rasim Delic, former commander of the BH Army General Staff, alleges that there were three women in the group of Serbian soldiers captured in the village of Kesten. The witness clarified that they had been separated from other soldiers before the kidnapping took place and were escorted to the battalion by a courier. However, as he later learned, they were intercepted by a group of Mujahideen en route and taken away.
In his cross-examination, the witness confirmed that there were several groups of foreign fighters in the Zavidovici area, adding that a large Mujahideen group had arrived there before the BH Army launched the Vozuca operation. The rumor had it that these Mujahideen were Kurds. However, it was impossible to distinguish these groups and the El Mujahid Detachment because none wore any insignia and they all had similar clothing.
The trial continues on Wednesday with the evidence of new prosecution witness.