Home
PROSECUTION WITNESS CORROBORATES DEFENSE CASE
Ferid Buljubasic testifies at the trial of Rasim Delic, former commander of the BH Army General Staff. Buljubasic, who used to be Delic's chef de cabinet, corroborates Delic's defense case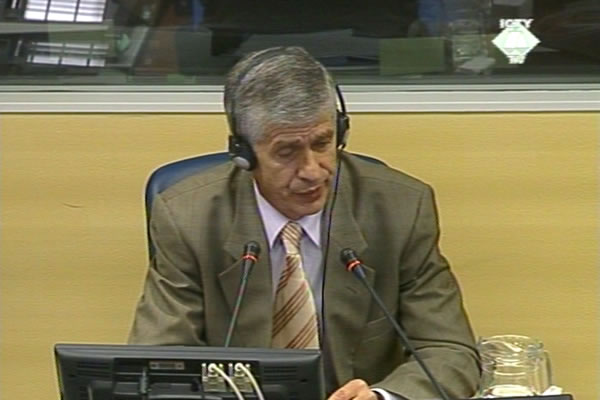 Ferid Buljubasic, witness in the Delic trial
Ferid Buljubasic, former chef de cabinet of the accused general Rasim Delic, testified at his trial today. He explained how the former commander of the BH Army General Staff received correspondence in the period from January 1995 to the end of the war.
In his brief examination-in chief, the witness confirmed what he had said in the statement to the OTP investigators in August 2007. When the prosecutor asked him to confirm the authenticity of General Delic's signature on several documents – the contents were not disclosed to the public – the witness answered that what he saw indeed looked like Delic's signature. He was not a handwriting expert, he added.
The correspondence between the departments in the General Staff almost always went through his office, the witness explained. The Personnel Department was located in the same building and there was no need for the mail addressed to the commander to go through his office; it was brought directly to Delic's office. According to the witness, the Security Department also sometimes delivered the mail for the commander the same way.
In the cross-examination, Delic's defense counsel Vasvija Vidovic claimed that her client had been 'very busy' with peace talks in 1995. His attention was focused on planning how to lift the siege of Sarajevo and the new developments in Srebrenica and Zepa. She also noted that General Delic had been away on business at the time when the BH Army had conducted the Vozuca operation. In the second part of that month, Delic spent some time in the Bihac area, Vidovic claimed.
The witness confirmed all the defense's claims, including the claim that during General Delic's absence from the command post in Kakanj, General Enver Hadzihasanovic, the BH Army chief of staff, acted as his stand-in.
A former member of the El Mujahid Detachment will testify tomorrow with full protective measures: pseudonym, and image and voice distortion.