Home
PROSECUTION CASE DRAWS TO A CLOSE AT THE KLA CRIMES TRIAL
The prosecution should complete its case at the Haradinaj, Balaj and Brahimaj trial by 16 November. The defense teams were invited to state one week before this deadline whether they would be filing a motion of no case to answer on all or some counts in the indictment where they contend prosecution failed to prove the guilt of the accused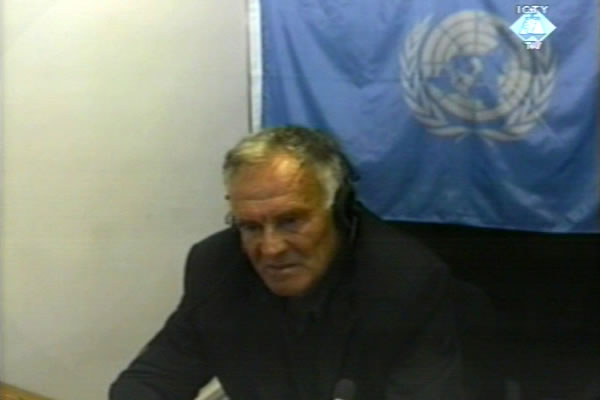 Karim Kuqi, witness in the Haradinaj trial
The Trial Chamber presided by Judge Orie 'expects' the prosecution to complete its case against three former KLA commanders – Ramus Haradinaj, Idriz Balaj and Lahi Brahimaj - by 16 November 2007.
At the same time, the Trial Chamber invited the defense teams to state by 8 November if they intended to file any 98 bis motions, calling for the acquittal of their clients on some or all of the charges that they contend the prosecution has failed to prove. If such motions are filed, the 98 bis hearing will be held on 20 November 2007.
As the trial continued today, Karim Kuqi took the stand. His evidence lasted less than an hour because neither the defense teams of Haradinaj, Balaj and Brahimaj nor the judges had any questions.
Testifying via video link from Kosovo, Kuqi described the circumstances under which he last saw his cousin Skender Kuqi. According to the indictment, Skender Kuqi was kidnapped by two KLA members and was taken to the KLA headquarters in Jablanica. The witness was present when two armed and masked men entered his shop and, as he described, started shouting in Serbian language. He was so 'excited', he said, that he couldn't see what kind of weapons they carried, but he did see that they wore camouflage uniforms.
Although the indictment identifies the kidnappers as members of the KLA, and this had been confirmed by evidence heard so far in this trial, the witness said that the mere fact that 'they spoke only Serbian' convinced him that they were actually Serbs. He saw the kidnappers take Skender Kuqi away in their car but was not able to confirm that his cousin was then taken to the KLA prison in Jablanica as the prosecution alleges. This was the last time he saw his cousin. He learned about Skender's death only 'after the war'.
According to the evidence of Rustem Tetaj, former KLA commander who previously testified in this case, Skender Kuqi was beaten to death after he attempted to escape from the Jablanica prison. He was detained there on charges of collaboration with Serbs.
The trial continued with the evidence of a protected witness testifying under pseudonym 71. Most of the testimony was heard in closed session. The next witness was Radomir Gojkovic. He was a District Court judge in Pec and he participated in the investigation and identification of the bodies found in the Radonjic lake canal between 9 and 17 September 1998.