Home
DEFENSE HAS NO QUESTIONS FOR KLA INSIDER
Former member of the KLA testifies at the Haradinaj et al. trial. He is named in the indictment as a participant in the joint criminal enterprise and a direct perpetrator of some of the crimes – kidnaps and abuse – that Haradinaj, Balaj and Brahimaj are charged with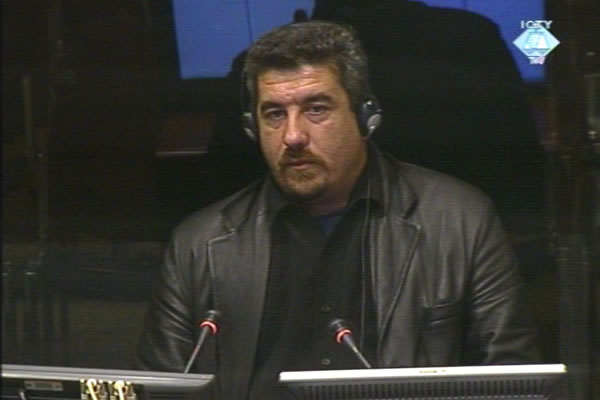 Pjeter Shala, witness in the Haradinaj, Balaj and Brahimaj trial
The indictment against Ramus Haradinaj, Idriz Balaj and Lahi Brahimaj names prosecution witness Pjeter Shala a/k/a Ujku (Wolf) as a participant in the joint criminal enterprise and a direct perpetrator of some of the crimes – kidnaps and abuse – the three former KLA commanders are charged with. Prosecutor Di Fazio didn't mention it in his examination-in chief and the defense teams of all three accused didn't have any questions for this witness.
After the massacre of the Jashari family in Drenica in early March 1998, Shala returned to Kosovo from Albania with a group of 20 to 30 armed men. They arrived in Jablanica first and joined the local KLA unit. It was commanded by Nazmi Brahimaj, brother of Lahi Brahimaj, one of the accused. According to the indictment, there was a prison in Jablanica where the KLA held the Serbs, Albanians and Roma it had kidnapped. The prosecutor didn't ask any questions on this issue today. The only thing the witness was asked to do was to mark houses where the local KLA headquarters and barracks were located on the photo of the village and the sketch he had made himself.
In Jablanica, Shala met the accused Idriz Balaj a/k/a Toger. According to the witness, Balaj at first trained new soldiers and was then appointed the commander of the KLA special unit stationed in the village of Rznic. Shala doesn't know who appointed Balaj to that post; it is his guess that it could have been Ramush Haradinaj, commander of the Dukagjin operative zone.
Shala confirmed that he often went from Jablanica to Ramush Haradinaj's headquarters in Glodjani to pick up orders, money and weapons. The prosecutor submitted a document dated June 1998 in which Haradinaj orders Shala and a couple of KLA soldiers to go to Albania to pick up weapons. Haradinaj's written order transferring Pjeter Shala from Jablanica to Dujak in early July 1998 was tendered into evidence. That was more or less all the prosecutor could get from the witness, and the defense had nothing to challenge in the cross-examination.