Home
PROSECUTION TALKS ABOUT KLA, DEFENSE ABOUT INTERIOR MINISTRY
Former activist of the Humanitarian Law Center in Belgrade says the KLA had control over the Dukagjin area in 1998. According to her, KLA troops attacked local Serbs in an attempt to expel them. Haradinaj's defense counsel didn't contest her claims, deciding to question the protected witness about the crimes committed by the Serbian Interior Ministry instead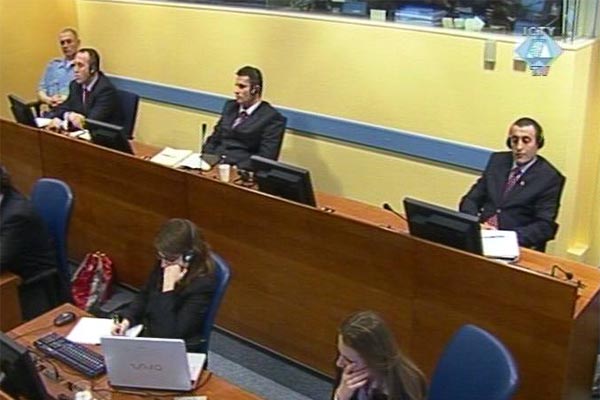 Ramush Haradinaj, Idriz Baljaj and Lahi Brahimaj in the courtroom
The trial of Ramush Haradinaj, Idriz Balaj and Lahi Brahimaj for the crimes committed by the KLA in 1998 continued today with the evidence of a former activist of Humanitarian Law Center (HLC) in Belgrade. She testified under the pseudonym 28 and image and voice distortion as protective measures. She agreed to come to The Hague only after the Trial Chamber granted the prosecution's request and subpoenaed her to testify. Her statement given to the OTP investigators in October 2007 was tendered into evidence. The defense objected the prosecution's attempt to tender into evidence the HLC reports on crimes in Kosovo committed in 1998.
On the basis of the information gathered from Serbian and Albanian sources, the witness concluded in the spring of 1998 that the KLA controlled the zone east of the road Pec-Djakovica also known as the Dukagjin area. After the battle of Glodjani on 24 March 1998, neither the Serbian police nor the human rights activists and journalists had access to Dukagjin.
In the course of her investigation, the witness learned that many Serbian families had left their houses in that part of Kosovo under the pressure from the KLA. She described the pressure: their property would be blown up and local non-Albanian citizens would be abducted. The HLC report from 1998, authored in part by the witness, mentions several incidents listed in the indictment against the three former KLA commanders. Among the incidents is the disappearance of two Roma and one Serbian civilian in the village of Grabanica in May 1998 and the crime against the Serbs in the village of Dasinovac.
In the cross-examination, Ramush Haradinaj's defense counsel questioned the witness only about the actions of the Serbian Interior Ministry, opting not to mention the KLA crimes at all. He put it to the witness that the arrested Albanians would be taken to be 'interviewed' in the summer of 1998 – this in fact meant that they had been tortured during questioning. The witness agreed, saying that in that period such 'interrogations' were 'systematic'.