Home
'ONLY HIS SOUL WAS LEFT UNTOUCHED'
The witness, an Albanian woman from Kosovo, testifying under the pseudonym 23 and with full protective measures describes the state of her husband after his release from the KLA prison. 'Everything but his soul was mutilated', she said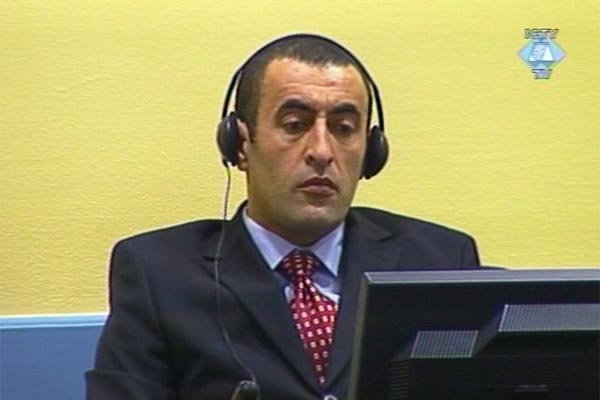 Lahi Brahimaj in the courtroom
As the prosecution case continued today at the trial of Haradinaj, Balaj and Brahimaj, the court heard the testimony of an Albanian woman. She testified via video link from Pristina under the pseudonym 23 and with voice and image distortion. For security reasons, she didn't specify where exactly in Kosovo she lived with her husband, but she did say that they had been stopped in a car with their four children by KLA members on 12 June 1998 on the road from Djakovica to Klina.
The witness and the children were allowed to go but her husband was taken away. Later, she learned that he was kept in the KLA prison in the village of Jablanica. As alleged in the indictment, this prison was run by Lahi Brahimaj. Five weeks after his arrest, the witness was allowed to visit her husband. She headed to Jablanica with the two of their children. She found him in a terrible state. He was so exhausted and thin that the children couldn't recognize him. She didn't see the injuries on his body at that time, but when he was released a week later, she could see the injuries caused by the beatings.
'Only his soul was left untouched, everything else was mutilated', she said, adding that after they visited a doctor they learned that his left arm had been broken. Testifying at the trial of three former KLA commanders as witness 06 in June 2007, the witness's husband said that he had been severely beaten in the Jablanica prison. At one point, he recalled, he was so disfigured that he 'couldn't tell where his head ended and his neck started'.
As the trial continued today, the prosecution called Avdulah Avdija, former KLA member. He described his last meeting with Sejdo Noci, a Kosovo Albanian, who was killed in the KLA prison, according to the indictment. Avdija said that he had left Noci one July night at the KLA check point near Junik and had no further knowledge of his whereabouts. Sejdo Noci's body was found in the Radonjic lake canal in September 1998 together with dozens of bodies of other civilians. According to the indictment, the KLA is responsible for their deaths. Avdija finished his evidence by greeting the three accused. This has now become the custom with the prosecution witnesses.