Home
'RESTRICTED ACCESS' TO DUKAGJIN AREA
General Dragan Zivanovic dismisses Haradinaj's defense claims that the army and police, not the KLA, controlled the part of Kosovo east of the Pec-Djakovica road in September 1998. The Serbian security forces had 'restricted access' to this area, he said, during the anti-terrorist actions in the summer of 1998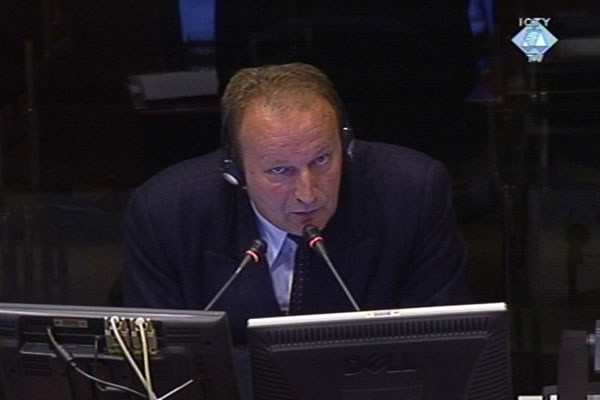 Dragan Zivanovic, witness in the Haradinaj trial
In today's cross-examination of Dragan Zivanovic, former commander of the 125th Armored Brigade, Ramush Haradinaj's defense contested his claim that it was the KLA that controlled the Dukagjin area in the spring and summer of 1998. Last week, the witness said that the Serbian security forces did not have access to the area east of the Pec-Djakovica main road until late September of 1998. They were able to penetrate the area only sporadically, during the limited-scope operations they launched in July and August.
Defense counsel Ben Emmerson confronted Zivanovic with a series of VJ orders from the first half of 1998, where demands are made to capture the area east of the Pec-Djakovica road. Because of strong KLA resistance, none of the orders could be implemented, Zivanovic answered.
Zivanovic admitted that the army and the police controlled two heights on the rim of the Dukagjin area – the Radonjicka Suka, south-east of the Radonjic lake and the Erecka Suka, a hill close to the village of Babaloc. He agreed with the defense's claim that these were dominant and strategically important points in the area. But, according to Zivanovic, the KLA was at an advantage, because the area it controlled was partially inhabited, partly wooded and access was difficult for VJ units.
In an effort to challenge the credibility of Zivanovic's evidence, the defense counsel put it to him that his brigade had taken part in the looting and burning of more than two hundred villages in Kosovo in 1998 and 1999, something Zivanovic had to have been aware of. Zivanovic answered that his soldiers had fired only at buildings with 'terrorists' inside and that they had been under strict orders not to enter the houses of Kosovo Albanians.
Haradinaj's defense counsel used the same tactics he had used in the cross-examination of other army and police witnesses, focusing on the role of the Serbian security forces in the Kosovo conflict and not that of the KLA. Mention was made of the unconstitutional actions of the army in Kosovo in 1998 and the dispute between Momcilo Perisic, the then VJ chief of staff, and Slobodan Milosevic over that issue, excessive use of force and a number of other topics discussed in detail in the other ongoing Kosovo trial, that of the six former Serbian officials charged with murder and persecution of Albanian civilians in the first half of 1999.