Home
SERBIAN GENERAL DESCRIBES HOW KLA GREW
Dragan Zivanovic, former commander of the VJ 125th Brigade claims that from the beginning to the end of 1998 the KLA brought some 300,000 guns into Kosovo and established control over the Dukagjin area with strongholds in Glodjani and Jablanica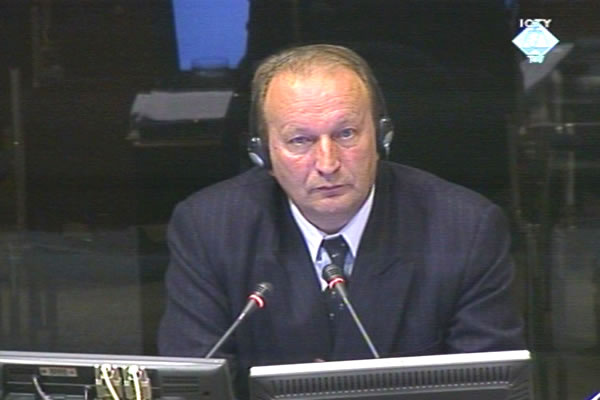 Dragan Zivanovic, witness in the Haradinaj, Balaj and Brahimaj trial
Following the testimony of Zoran Stijovic, an analyst in the Pristina office of the Serbian Security Service, the prosecution called Dragan Zivanovic, former commander of the 125th Brigade in the VJ Pristina Corps at the trial of three former KLA commanders. He talked about the organization and activities of the KLA and efforts of the VJ to prevent the illegal importation of weapons from Albania.
According to his evidence, in the spring of 1998, the KLA established complete control over the Dukagjin area; the police and the army were unable to enter the zone until September 1998. Zivanovic claims that he was told that the key KLA strongholds in the area were the village of Glodjane, with 1,500 men under Ramush Haradinaj's command, and the village of Jablanica. This is where the prison for the Albanians, Serbs and Roma the KLA kidnapped was located. The prosecution claims that the third accused Lahi Brahimaj was the commander of the camp in Jablanica.
In early 1998, Zivanovic explained, the KLA in Kosovo had about 100,000 guns and other small arms. By late 1998, that number increased four times, he went on to say. The reason was the importation of arms from Albania. The army tried to prevent it, but in most cases it failed to do so.
The retired Serbian General will continue his testimony on Monday. Another witness, testifying under the pseudonym 68 and with image and voice distortion as protective measures, gave her evidence at the beginning of today's session. Speaking of the abduction of her husband, she said that she last saw him in the morning of 18 July 1998 as he left for work. He said he would visit his relatives in the village of Dobric in the Djakovica area. When he didn't come home by nightfall, she notified the police.
She learned about his fate two months later when police officers from Djakovica told her that her husband had been kidnapped on 18 July by a group of KLA members in the village of Dujak. From there he was transferred to Glodjane and brought to a local commander nicknamed "Wolf". The police got this information from the confessions of two KLA members, Luan and Krist Pervorfi, who took part in the kidnapping and who were later arrested by the police, she said. The police officers told her the Pervorfi brothers confessed that her husband had been killed and left at the Radonjic lake canal. His body was found there in September 1998, with a bullet wound to his head.