Home
PROSECUTOR TRIES TO REHABILITATE HIS OWN WITNESS
In the cross-examination, defense counsel for Boskoski and Tarculovski accuse the German journalist Hutch of 'fabricating facts'. In the re-examination, the prosecutor tries to rehabilitate the witness who claims to have witnessed the attack on Ljuboten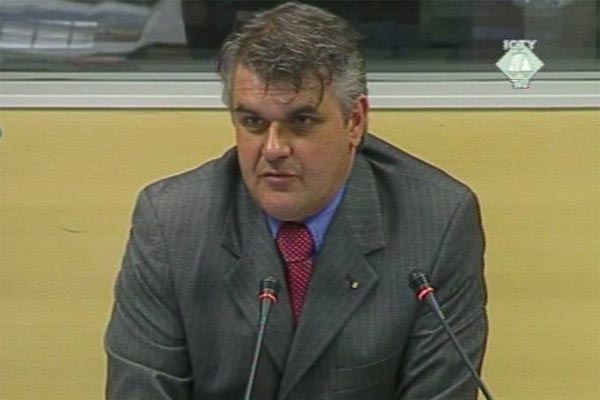 Jozef Hutsch, witness in the Boskoski and Tarculovski trial
In the re-examination, the prosecutor tried to rehabilitate his witness, German journalist Franz Josef Hutch, who was accused of 'fabricating facts' by the defense counsel representing Ljube Boskoski and Johan Tarculovski.
The defense counsel claim that Hutch was not in Ljuboten on 12 August 2001 when the Macedonian police attacked the village and killed seven Albanian villagers, as the prosecution alleges. They also challenge the claim that Hutch saw the police enter the village and beat up civilians at the checkpoint on the road leading out of Ljuboten. He didn't take any statements from the villagers who had witnessed the events on 14 August, the defense contends. According to the defense, Hutch wrote his notes on the basis of the reports of the Human Rights Watch, an international NGO, not on the basis of what he saw or heard from the villagers of Ljuboten.
Like the defense, the prosecutor also compared the notes the German journalist took and the HRW report, noting the discrepancies. There is a difference in the age of one of the victims from Ljuboten, for instance, and this, the prosecutor claims, proves that Hutch did not 'copy' this report but really talked to the villagers who did not give him the same information they gave the HRW investigators.
In the cross-examination, Ljube Boskoski's defense counsel claimed that Hutch could not have obtained the information about the events on the ground from the Macedonian Interior Ministry because 'it was not the Ministry practice'. The prosecutor then showed the witness some footage from the Macedonian state TV in the re-examination. The prosecutor contends that the footage shows the Ministry informed the media about its activities; it sometimes did so during the combat operations.
Hutch was 'rehabilitated' for the second time today, as he said. The first such instance was in 2006, when he won the lawsuit before a German court against a journalist who had accused him of 'perjury and acting dishonorably'. The libelous text from a Frankfurt newspaper was admitted into evidence as a defense exhibit in the cross-examination.
Franz Josef Hutch's testimony is over, and the prosecution will recall military expert Viktor Bezruchenko, who had been retained by the prosecution to draft a report on the character of the armed conflict in Macedonia in 2001.