Home
DEATH OF A SPANISH LIEUTENANT
As the trial of Bosnian Croat leaders continues, the court hears testimony of a former member of the Spanish contingent in the UN peace-keeping force stationed in Mostar at the time. He blames the HVO for the death of Lieutenant Muñoz Castellanos in June 1993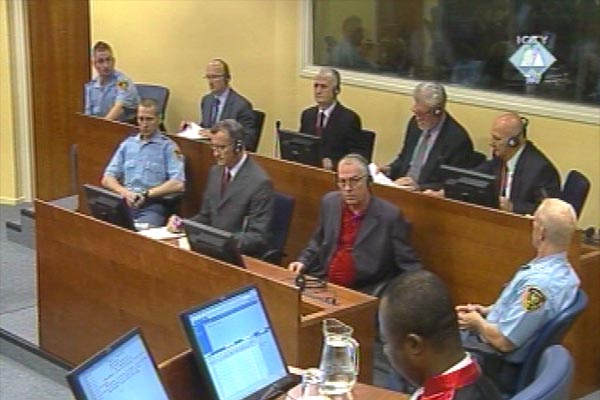 Jadranko Prlić, Milivoj Petković, Bruno Stojić, Slobodan Praljak, Valentin Ćorić i Berislav Pušić u sudnici Tribunala
Former member of the Spanish contingent in the UN peace-keeping force stationed in Mostar blames the Croatian Defense Council for the death of Lieutenant Muñoz Castellanos on 11 June 1993. He is testifying under a pseudonym and with image distortion at the trial of former Herceg Bosna leaders. He claims that the shell that killed the Spanish lieutenant was fired from an HVO position on Hum hill.
Describing the incident, the witness said the Spanish Battalion troops were escorting the Red Cross personnel who were trying to get blood supplies to East Mostar. They also intended to visit some HVO soldiers held captive by the BH Army. When the shell exploded, the soldiers were outside their vehicles because a stretch of the road was impassable for armored personnel carriers. The Spanish lieutenant was fatally wounded in the explosion.
Spanish Battalion troops had written permission from the HVO for the mission, the witness says. The paper was signed by Bruno Stojic, the then defense minister in Herceg Bosna. The permission did not help them much when they tried to get through an HVO checkpoint in West Mostar, looking for an ambulance to get their wounded colleague to hospital. After a heated debate with the soldiers manning the checkpoint, the witness demanded to talk to the commander who was in charge. General Slobodan Praljak soon showed up, and Spanish Battalion troops were finally allowed to pass through, after his intervention.
Lieutenant Castellanos succumbed to his wounds two days later. The investigation carried out by the Spanish Army showed that the round had been fired from Hum hill, controlled by the Croatian Defense Council, the witness claims.
The witness believes that General Praljak represented the 'military power' in West Mostar at the time. In a report tendered into evidence by the prosecution, the witness notes that the power Praljak demonstrated that day points to 'the direct involvement of Croatia in the BH conflicts'. He explained why he had written that: during their first encounter, Praljak was dressed in the Croatian Army battle uniform.