Home
PRLIC: WE HAVE ALREADY BEEN JUDGED
Jadranko Prlic believes that he and five former Herceg Bosna leaders "have already been judged". The prosecution warns the court that in accordance with a previous decision of the Trial Chamber, the accused may question the witnesses only in exceptional circumstances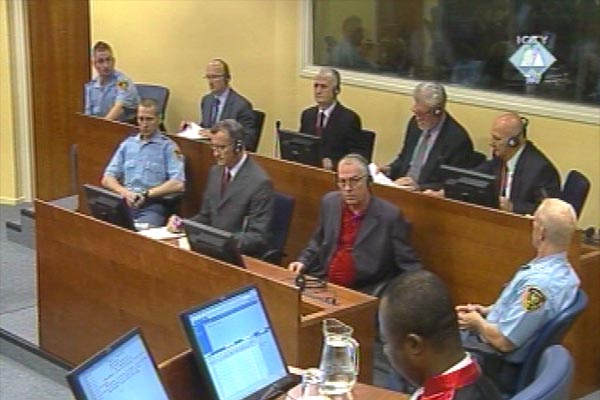 Jadranko Prlić, Milivoj Petković, Bruno Stojić, Slobodan Praljak, Valentin Ćorić i Berislav Pušić u sudnici Tribunala
As the trial of six former Herceg Bosna leaders continues, the first accused Jadranko Prlic expresses his concern about the fairness of the trial and his fear that they have already been convicted.
Prlic said that there were at least four adjudicated facts that the Trial Chamber had "taken judicial notice of" sufficient for the conviction. This transferred the burden of proof from the prosecution to the defense.
Prlic refers to the findings in the judgments in the Naletilic and Martinovic case that the HVO was the supreme legislative and executive body in Herceg Bosna whose authorities tried to implement unilaterally the Vance-Owen peace plan in 1993 by launching a wide-spread and systematic attack on the Muslim population in that part of BH. Its final goal was the annexation of Herceg Bosna to the neighboring Croatia.
Prlic asked what it was that the prosecution should do after all that, noting that the burden of proof was thus transferred to the defense. At the same time, in the cross-examination of the prosecution witnesses, the judges measure the time given to the defense by stopwatch. Prlic added that as a result, the defense counsel of the six accused "trade time" and do little else. This can sometimes be "humiliating", he went on to say.
Prlic emphasized that he spoke only for himself and said once again that the six accused should have had separate trials.
Prosecutor Kenneth Scott said that sometimes he thought he had to deal with "two-headed creatures" because he could not figure out how the accused ever got the opportunity to stand up and discuss various issues, even legal matters, whenever they wanted to despite the fact that they all had their legal counsel. In Scott's view, this applies to Slobodan Praljak in particular.
The prosecutor reminded the court that in accordance with a previous decision of the Trial Chamber, the accused had the right to question witnesses only in exceptional circumstances. In Praljak's case, this exception turned out to be the rule.
In his response to the prosecutor's remarks about the examination of witnesses, Praljak said that he always followed the instructions of the judges. He in fact stands in for as at least three experts who should be permanently present in the courtroom: a sociologist, a social psychologist and a military expert.
Judges indicated that they would deliver the decision on all the issues addressed by the accused, their defense counsel and the prosecution soon. The trial continued in closed session after this discussion.