Home
REMOTELY CONTROLLED EXPLOSIONS
General Dragomir Milosevic's defense argues that Sarajevo was not shelled by modified air bombs, but that casualties and damage to property were caused by "ordinary explosives" planted by the BH Army and activated by remote control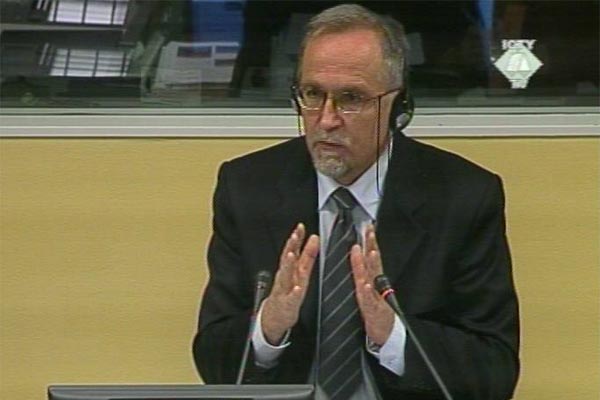 Berko Zecevic, witness in the Dragomir Milosevic trial
General Dragomir Milosevic's defense counsel believes that the majority of explosions listed in the indictment against his client were not caused by modified air bombs, but "ordinary explosives" planted and most probably activated by "remote control".
Today, defense counsel Tapuskovic cross-examined prosecution witness Berko Zecevic, who drafted an expert report on the use of modified air bombs in Sarajevo in 1994 and 1995. Tapuskovic presented his arguments about planted bombs and remote controls, and referred to a book A Canny Strategy, written by Sefer Halilovic. In it, the author describes how explosive device was activated on his terrace by remote control. Regardless of that, both the witness and the presiding judge concluded that "this has very little to do with General Milosevic's case".
Professor Zecevic said that rocket motor fragments had been found on every site where modified air bombs had exploded. Moreover, the walls of the buildings where such bombs exploded were often pierced; this could not have been caused by "ordinary explosives". The defense counsel didn't find the explanation convincing, claiming "there were no victims in at least three incidents listed in the indictment". In his view, this isn't consistent with the prosecution's argument that the modified air bombs are a "highly destructive weapon with a killing range of 150 m". Tapuskovic considers only those who were killed as "victims".
Prosecutor Alex Whiting contested this claim noting that there were victims in these three incidents – civilians who sustained severe or minor injuries.
[IMAGE]2623[/IMAGE]When professor Zecevic finished his evidence, Richard Higgs took the stand. He is a new prosecution expert witness. His expertise is mortar shells. Using the documents provided by the OTP – reports made by the Sarajevo police, UNPROFOR and UN military observers who conducted the on-site investigations – Higgs compiled expert reports on the shelling incidents on 16 June 1995 in Livanjska Street, two days later in Dobrinja and on 28 August 1995 at the Markale market.
In the first part of his testimony, Higgs explained how and why mortars are used, and the way in which the direction from which a shell was fired could be determined. His evidence continues tomorrow afternoon.