Home
ABDUCTION OF ALBANIANS MARRIED TO SERB WOMEN
The trial of three former KLA commanders continued today with the testimony of a man who was on the bus from which Ramush Haradinaj and his fellow fighters took two Albanians on 20 July 1998. The two men were taken in the direction of Glodjani, and their bodies were later found in the Radonjic lake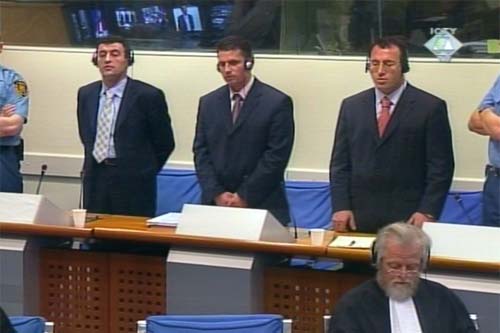 Brahimaj, Balaj and Haradinaj (from left to right) in the courtroom
The trial of Ramush Haradinaj, Idriz Balaj and Lahi Brahimaj continued today with the testimony of an elderly Albanian man. He gave his evidence as Witness 8, with image and voice distortion. The allegations in the prosecution's pre-trial brief indicate that he gave evidence about an incident on 20 July 1998, when two Albanians were taken off a bus between Djakovica and Pristina and subsequently killed.
He testified in open session for only about fifteen minutes. He is from the Djakovica area and he was on the bus from which the two Albanians – Isuf Hoxha and Hajrullah Gashi – were taken off near Malisevo.
In the prosecution's pre-trial brief, it is alleged that Ramush Haradinaj and other uniformed KLA members under his command entered the bus on 20 July 1998, saying they were looking for Hoxha and Gashi, two Albanian men married to Serb women. The KLA members took them off the bus and drove them in the direction of Glodjani in a black Golf. Their bodies were found in a canal near the Radonjic lake later that year in September later.
The trial of the three former KLA commanders will continue on Monday, 16 April.