Home
CLOSE ENCOUNTER WITH A SCHOOLMATE
Witness Mijat Stojanovic describes how he was beaten up in the KLA headquarters in Glodjane on 18 April 1998. He claims he saw the first accused Ramush Haradinaj twice on that day. He attended the same elementary school as Haradinaj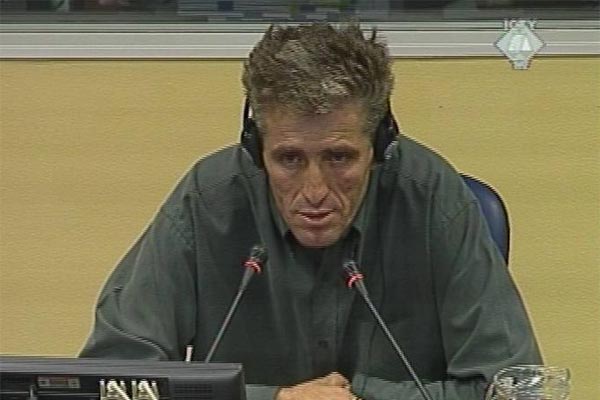 Mijat Stojanovic, witness in the Haradinaj, Balaj and Brahimaj trial
The trial of Ramush Haradinaj, Idriz Balaj and Lahi Brahimaj continued today with the testimony of Mijat Stojanovic. He gave evidence about how he had been captured, beaten and detained in the KLA headquarters in Glodjane for one day. His brother Dragoslav had already testified about the same events over the past few days. They both described how the KLA had captured them and their cousin Veselin Stijovic on their family property in Dubrava on 18 April 1998. Among the KLA members was Daut Haradinaj, Ramush Haradinaj's brother. They were first beaten up during their capture and were then taken to the KLA headquarters in Glodjani where the physical and mental torture continued.
Mijat Stojanovic and Veselin Stijovic were questioned in the same room where Mijat's brother Dragoslav had been beaten earlier. Dragoslav had been thrown out, as the witness described, "half-dead". The two cousins, Mijat and Veselin, were ordered to strip to the waist and were then beaten with a baton with metal reinforcements, rifle butts, pistols, fists, boots. As Stojanovic said, they were beaten by their neighbor Zeqir Nimonaj and Ramush's cousin Besnik Haradinaj. KLA members let them go later that afternoon and took them to the Serb-controlled territory.
The witness claims he saw Ramush Haradinaj twice on 18 April in Glodjane. The first time was when the accused stood in front of the family home in Glodjane as the witness, his brother and cousin were being taken to the KLA headquarters. The second time he saw Ramush was in the courtyard of the house where the HQ was when the decision was made to let them go.
In his testimony, Dragoslav Stojanovic said that Ramush Haradinaj had kicked him as he lay in the corridor of the Glodjane headquarters while Mijat and Veselin had been questioned in the room.
Challenging the reliability of the identification of his client, defense counsel Ben Emmerson put it to the witness that the last time he had seen Haradinaj before the events of 18 April 1998 had been when Haradinaj was only thirteen, since Stojanovic moved to Belgrade in 1982. The witness confirmed that this was so, but said that he was sure he had seen Ramush Haradinaj twice on that day. They had gone to school together.
The defense counsel went on to show Stojanovic an interview he had given seven days after the mistreatment in Glodjane to Ilustrovana Politika, a Belgrade magazine. In it, he mentions a number of neighbors who participated in his detention and torture but Ramush Haradinaj's name is not among them. "I only mentioned the names of people who beat me, not all of the people I saw," the witness replied.