Home
DUKAGJIN WAS UNDER HARADINAJ'S CONTROL
British colonel John Crossland says that in the spring of 1998 he considered Ramush Haradinaj as the KLA commander in charge of the Dukagjin area. Haradinaj confirmed this when they met in the KLA HQ in Glodjane that same spring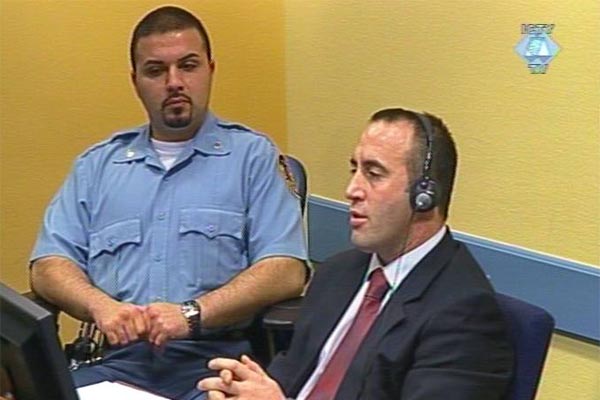 Ramush Haradinaj in the courtroom
Colonel John Crossland visited Kosovo in 1998 more than 70 times as the military attaché of the British embassy. In that period, he met the first accused Ramush Haradinaj three times. Testifying at the trial of the three former KLA commanders, Crossland said that he had considered Haradinaj to be a KLA commander as he was "told so in Pristina".
The witness did not disclose who had described Haradinaj as a KLA commander in Pristina. At their first meeting in the spring of 1999, Haradinaj himself told him that "he controlled Dukagjin" – the Pec-Djakovica-Klina triangle. In the HQ, he saw about ten to fifteen uniformed Albanians with the KLA insignia and Kalashnikovs, machine guns and "a few antitank grenades".
In September 1998, the witness accepted an invitation from the Serbian Ministry of Interior and the representative of the OSCE Kosovo Verification Mission to join them on a visit to the Radonjic lake canal. According to the prosecution, this was where the bodies of Serbian and Albanian victims of the KLA were found. Crossland saw eight bodies there and bullet marks in the canal walls. Near the bodies he found Chinese shells which, as he explained, could mean that they were fired by the KLA.
Crossland has so far taken the stand at three Kosovo trials. First he gave evidence at the Slobodan Milosevic trial, and then he testified at the trial of Fatmir Limaj, Isak Musliu and Haradin Bala. The last time he testified was at the trial of six Serbian officials charged with crimes against Kosovo Albanians. The trial of Ramush Haradinaj, Idriz Balaj and Lahi Brahimaj continues tomorrow.