Home
PROSECUTION WITNESS AS "COLLATERAL DAMAGE"
Ramush Hardinaj's defense counsel claims that the indignant villagers of Glodjane arrested and beat up three prosecution witnesses on 18 April 1998 because a month earlier the police had launched an attack on the Haradinaj family compound using their house as a base. Three teenagers had been killed in the attack. As one of the three witnesses is not from Glodjane at all, he asked why he had suffered the same fate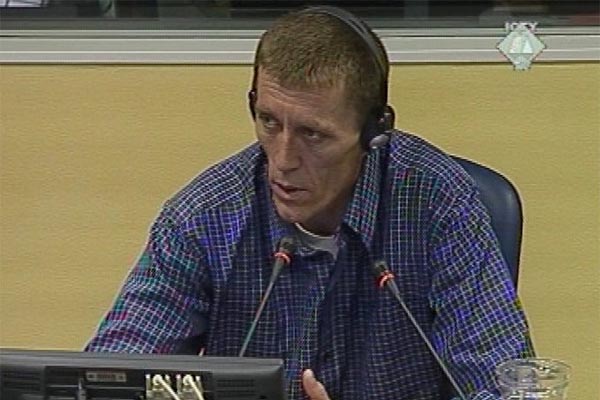 Veselin Stijovic, witness in the Haradinaj, Balaj and Brahimaj trial
Prosecution witness Veselin Stijovic is convinced that he and his relatives Dragoslav and Mijat Stojanovic were arrested and beaten up just for "being Serbs". In his examination-in chief today, he repeated the claims made by his two relatives. All three of them were arrested and beaten up in front of the Stojanovic family house in Dubrava and later transferred to the KLA headquarters in Glodjane. There, the mistreatment continued.
Haradinaj's defense counsel is convinced that the three witnesses were not beaten up by the KLA members. "Armed inhabitants of Glodjane" beat them up to retaliate for the incident on 24 March 1998 when the police surrounded and attacked the Haradinaj family property. A police officer and three Albanian teenage boys were killed then.
The defense counsel put it to the witness that the villagers of Glodjane bore a grudge against the Stojanovic family because the police had launched the attack from their property. Stijovic rejected such allegations. "How come I was beaten up when my home was in Dasinovac? I was not involved in anything", he asked in response.
The defense counsel presented the same argument at the beginning of the hearing today, as he brought the cross-examination of Mijat Stojanovic to an end. He put it to the witness that the Albanians arrested after the conflict of 24 March had been held by the police in the courtyard of the Stojanovic family home in Dubrava. The witness confirmed that the captives had been lined up in front of the house. However, they were lined up in front of the gate, not in the yard. He had demanded that the police not bring the captives into his yard, because he did not want to anger their neighbors.
Mijat Stijovic admitted that on 18 April "he got the impression" that the whole village was against them. Villagers were coming out of their homes and hit them as they were being led from Dubrava to the KLA headquarters in Glodjane. He denied that they were accused of being "Serbian police spies". The truth was that Zeqir Nimonaj, a KLA member, called him "a spy" as he beat the witness in the KLA headquarters.
The trial of Ramush Haradinaj, Idriz Balaj and Lahi Brahimaj continues on Monday.