Home
GETTING TO KNOW HARADINAJ
Dragoslav Stojanovic describes how he was arrested and beaten up by armed Albanians on 18 April 1998. Then, in the KLA headquarters, his "next-door neighbor" Ramush Haradinaj kicked him in the back, promising him that he would "get to know him very well"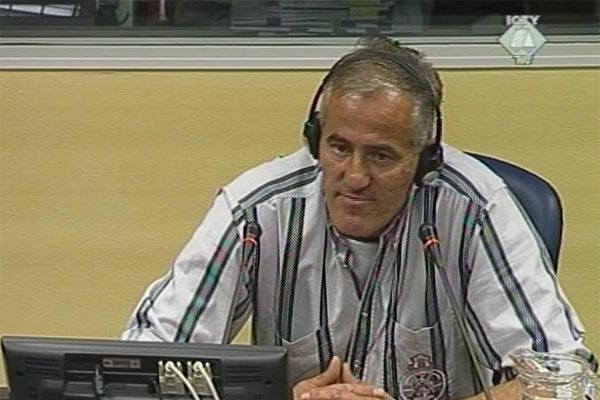 Dragoslav Stojanovic, witness in the Haradinaj, Balaj and Brahimaj trial
Dragoslav Stojanovic continued his testimony at the trial of three former KLA commanders. After he was badly beaten up and lost consciousness more than once, he had a close encounter with the first accused Ramush Haradinaj. It happened in the corridor of Smail Haradinaj's house on 18 April 1998 in Glodjani. The KLA soldiers called this house their "headquarters".
The witness, his brother Mijat Stojanovic and cousin Veselin Stijovic were brought to the KLA headquarters following their kidnapping from their family home in Dubrava. After a brief questioning, Stojanovic was thrown out into the corridor. His brother and his cousin were then taken into the room. As Dragoslav Stojanovic lay in the corridor, he was approached by Ramush Haradinaj. Haradinaj kicked him and asked him, "Neighbour, do you know me?". Stojanovic knew who he was but in fear said he didn't. Then Haradinaj kicked him in the back saying, "You will get to know me well".
After Haradinaj left, the witness said, he was once again "beaten up brutally", and then was released together with his two relatives. They went to Decani, and Stojanovic was then transferred first to the Pec hospital and from there to Pristina where he underwent surgery. Today he has a disability because of serious internal injuries he had sustained.
Haradinaj's defense counsel said at the beginning of his cross-examination that he would not challenge the fact "that the witness was severely beaten up by the Albanians from Glodjani". What he wanted to challenge was the witness's identification of Haradinaj. Stojanovic himself confirmed the fact that prior to the incident he had not seen Haradinaj, since Haradinaj had lived abroad for ten years. The defense counsel argued that the witness had not been able to reason properly as he had been seriously injured and had been drifting in and out of consciousness. The witness refused to agree. He maintained it had been Haradinaj he had seen there. He knew Haradinaj very well since they were born and they attended the same school.
If the Trial Chamber decided to accept the witness's identification of Haradinaj, the defense counsel asked him to repeat some claims he had made in his examination-in chief. Stojanovic said that Haradinaj had not taken part in his arrest and mistreatment in front of his family home in Dubrava and that after leaving the corridor where he had kicked Stojanovic, the accused had not entered the room where the witness's relatives had been beaten.
In an effort to prove his claim that the men who captured and molested the witness were not under Haradinaj's command, the defense counsel reminded the Chamber that the witness had not heard anyone in the KLA headquarters calling Haradinaj "commander". The witness confirmed this, adding that the soldiers in black camouflage uniforms with the KLA insignia had stood up when Haradinaj had showed up in the headquarters, saluting him with a fist at the right temple.