Home
WHEN WITNESS SWITCHES SIDES
A prosecution witness took the stand at the trial of three former KLA commanders. His evidence about the murder of his Serbian neighbors Slobodan Radosevic and Milos Radunovic was contrary to what he had told the prosecutors in 2005. For the most part, he confirmed the defense case of three accused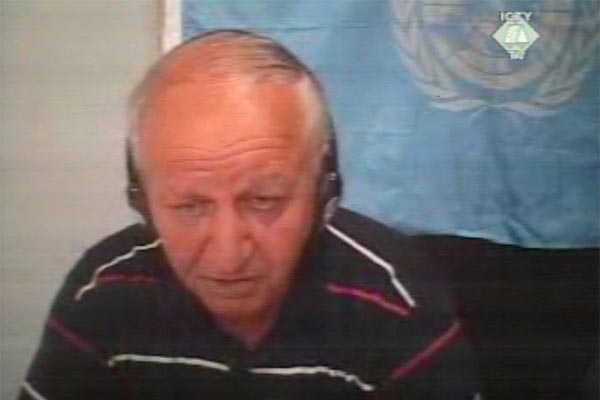 Qaush Sadikaj, witness in the Haradinaj, Balaj and Brahimaj trial
Qaush Sadikaj, a Kosovo Albanian, is the first prosecution witness testifying at the trial of three former KLA commanders under his own name and without any protective measures. Why he did so became clear soon enough: although Sadikaj was called by the prosecution, he testified in favor of the accused often contradicting the claims he had made in his statement to the OTP in 2005. In this statement, he speaks about the murder of Slobodan Radosevic and Milos Radunovic. Ramush Haradinaj, Idriz Balaj and Lahi Brahimaj are charged with the crime. Less than half an hour into his examination-in chief, the prosecutor asked that Sadikaj be declared a "hostile witness". This would allow the prosecution to cross-examine Sadikaj and confront him with his previous statement. The Trial Chamber did not allow it.
Sadikaj gave evasive answers when the prosecutor asked him about the circumstances in which he had last seen his Serbian neighbors Radosevic and Radunovic, and about his knowledge of how they had died. Sadikaj said that in April 1998 he had seen Milos Radunovic heading towards the house of Slobodan Radosevic in the company of several armed men in Yugoslav Army uniforms. A while later, he heard an "exchange of fire" from that direction. According to the indictment, the shooting lasted half an hour and then the KLA members captured Radunovic and Radosevic and took them away. Their bodies were found in September 1998 on a nearby country road.
After arduous attempts to refresh Sadikaj's memory, he said that "rumors spread" that several days after the incident a passerby saw two bodies by the road leading out of Dasinovac. He denied the portion of the statement he gave in 2005 where he said that he then learned that the bodies were those of Radunovic and Radosevic and that "this passerby" had seen gunshot wounds on the bodies.
Unlike the examination-in chief, the cross-examination went on smoothly as the witness kept confirming the arguments put to him by Haradinaj's defense counsel and giving answers that the defense counsel wanted to hear. He said that Radunovic and Radosevic had been in the police reserve force and that they had been walking around the village in uniforms and armed in the months leading up to their disappearance. They would threaten their Albanian neighbors, saying they would kill all those who had anything to do with the KLA, if they learned of such links.
Contrary to the evidence given by Stanisa Radosevic, Slobodan Radosevic's son, who said that his father had had only two hunting rifles, Sadikaj said that the Radosevic house had been for all intents and purposes a military base. In his words, Slobodan Radosevic had two light machine guns, two automatic rifles and two sniper rifles and had built bunkers in front and in the back of his house
Sadikaj is a former police officer. After graduating from the police school in Belgrade, he worked as a shift commander in the Dubrava prison until his retirement in 1991. He testified via video link from an undisclosed location.