Home
DRAGOSLAV STOJANOVIC'S TOUGH NEIGHBORHOOD
At the trial of the three KLA commanders, Ramush Haradinaj's next-door neighbor takes the stand. He is giving evidence about an incident in which Haradinaj himself took part, as alleged in the indictment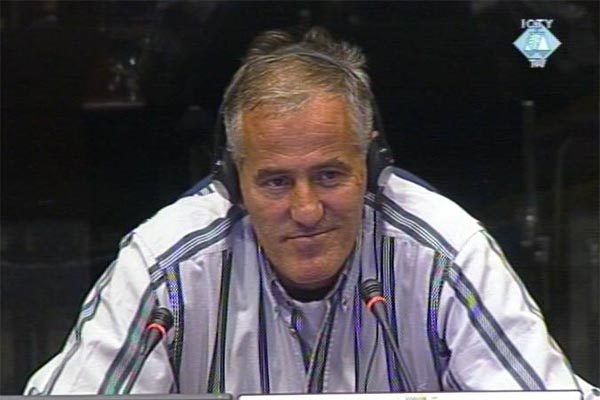 Dragoslav Stojanovic, witness in the Haradinaj, Balaj and Brahimaj trial
In early 1998, prosecution witness Dragoslav Stojanovic lived in a house 150 meters away from the home of the first accused Ramush Haradinaj. Their properties bordered on each other, because Stojanovic's was the last in the village of Dubrava and the Haradinaj family property was the first in the adjacent village of Glodjani.
The witness says he had to leave his home and move to Decani on 24 March 1998, after a clash between the police and an armed group ensconced on the Haradinaj property. He left Decani in the days that followed only to check up on his farm and feed the cattle. On one such occasion, he visited his home together with his brother Mijat and his cousin Veselin Stijovic. KLA members opened fire on them and then arrested all three of them.
The witness was first beaten in front of his home, he described. The soldiers hit him in the stomach with rifle butts. A subsequent examination in the Pristina hospital revealed he had sustained serious internal injuries and he had to undergo surgery. He, his brother and his cousin were taken to the house of Smail Haradinaj, Ramush's uncle, in Glodjani. As he learned from the armed Albanians who took him there, this was where the KLA headquarters was.
The witness will continue his testimony about the events that followed on Monday. The abuse of Dragoslav and Mijat Stojanovic and Veselin Stijovic in the KLA headquarters in Glodjani is an incident in which Haradinaj himself participated, as alleged in the indictment. Haradinaj was allegedly in the house while the witness and his brothers were questioned and beaten and at one point he himself kicked and humiliated Dragoslav Stojanovic.