Home
HARADINAJ'S DEFENSE ACCUSES WITNESSES
The defense counsel of the first accused Ramush Haradinaj once again demonstrates his excellent knowledge of the prosecution witnesses and their relatives, accusing Goran Vlahovic of "taking part in violence and retaliation against the Albanian population" in the Decani area in 1998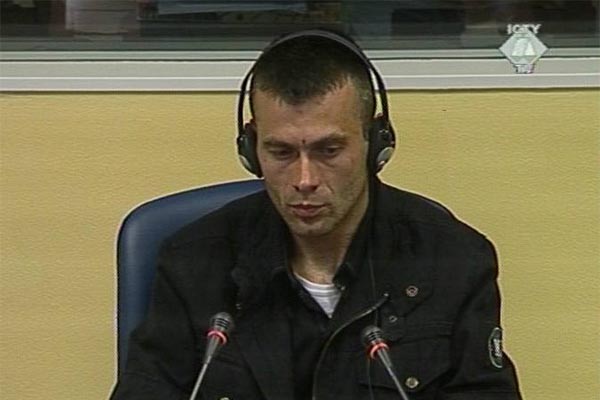 Goran Vlahovic, witness in the Haradinaj, Balaj and Brahimaj trial
Goran Vlahovic, prosecution witness at the trial of three former KLA commanders, confirmed today the evidence his brother Milojica gave at the same trial yesterday about the kidnapping of his parents from the village of Gornji Ratis near Glodjani and their subsequent killing. In his cross-examination, Ramush Haradinaj's defense counsel made a series of serious accusations against the witness. He alleged that Vlahovic, as a reserve police officer, took part in more than one crime committed against Albanians in the villages in the Decani area in April and September 1998.
Haradinaj's defense counsel Ben Emmerson confronted the witness with detailed information about him and a number of his relatives. Emmerson first said that Vlahovic had been present when members of a Serbian paramilitary unit took Ahmet Sokolaj, an Albanian, out of a refugee column, beat him up and killed him.
Emmerson followed the same tack he took yesterday when he cross-examined Goran's brother Milojica Vlahovic. He argued that the two of them and several of their relatives had looted Albanian villages in the Decani area and beat up Shaban Sadrikaj, an elderly Albanian, from Dasinovac village in September 1998. As Emmerson failed to provide any proof for the allegations he presented with such panache, the debate ended when the witness dismissed all these claims.
The witness denied that he had had anything to do with the police in 1998. This part of his statement is questionable, because his brother said yesterday that of all four Vlahovic brothers only he, Milojica, had not been a member of the reserve police force.
Emmerson did not have any questions related to the killing of the witness' parents, Milka and Milorad Vlahovic. Their murder is listed in counts 9 and 10 of the indictment against Ramush Haradinaj, Idriz Balaj and Lahi Brahimaj.