Home
NOT EVEN ALBANIAN NEIGHBORS COULD SAVE SERB COUPLE
Milojica Vlahovic testifies what he had learned about the killing of his parents that he saw for the last time on 21 April 1998. In September 1998 their bodies were found in the Radonjic lake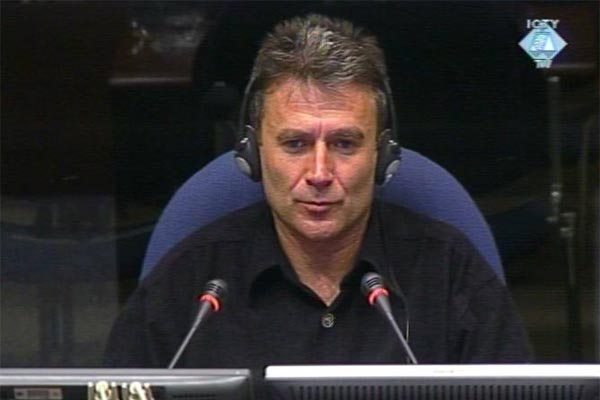 Milojica Vlahovic, witness in the Haradinaj, Balaj and Brahimaj trial
Milovan and Milka Vlahovic were taken from their family home in Gornji Ratis village near Glodjani sometime in late April or early May 1998. On 12 September 1998, their bodies were found in a canal close to the Radonjic lake. Milojica Vlahovic, their son, took the stand at the trial of three former KLA commanders. Ramush Haradinaj, Idriz Balaj and Lahi Brahimaj are charged with this crime in the indictment.
The witness saw his parents last on 21 April 1998. A few days later he learned that the situation around Glodjani was getting worse. Armed Albanians took control of the roads in that part of Kosovo and kidnapped their friends from a neighboring village, Milos Radunovic and Slobodan Radosevic. Their bodies were later found on a village road.
After 21 April 1998, the witness repeatedly tried to find out what had happened to his parents. As a Serb, he was afraid to go to Ratis as it was controlled by the KLA. Vlahovic decided to ask his Albanian friends to visit his parents and try to bring them over to Djakovica or Decani. When his friends returned from Ratis, they told him that his parents were alive but guarded by armed Albanians.
When the Serbian military and police forces pushed the KLA back from this area, the witness talked to his Albanian neighbors and learned that armed Albanians had taken his parents towards Glodjani sometime in late April or early May, despite the efforts of two of their Albanian neighbors, who tried to save them.
Apart from describing to the Chamber what he had learned indirectly about the death of his parents, and the death of Milos Radunovic and Slobodan Radosevic, the witness described a number of other incidents with Serb as victims. His neighbor Novak Stijovic told him that his father and sister-in-law had been taken to the village of Glodjani together with two other Serbs in April 1998 and beaten up. Asked by the prosecution whether Stijovic told him who had beaten them up, the witness said that he had not asked him that. Stijovic told him that they had been released after Hilmi Haradinaj's intervention. He is the father of the accused Ramush Haradinaj
The cross-examination of Milojica Vlahovic begun today and it will be finished tomorrow.