Home
IDENTIFYING THE "MAN IN BLACK"
Unlike the previous prosecution witness who was not able to "positively identify" the accused, the witness who testified today at the trial of the former KLA commanders did so. In his interview with the OTP investigators in 2004, he was shown a photo board and was able to recognize Idriz Balaj a/k/a Toger, saying he had been the commander of the "men in black" who had taken away his sisters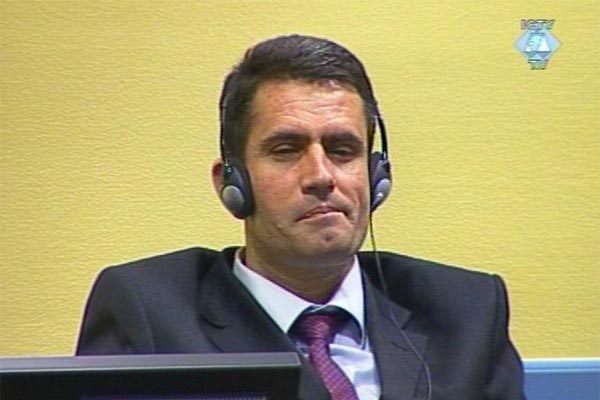 Idriz Balaj in the courtroom
As the prosecution continues its case at the trial of the three former KLA commanders, protected witness, testifying as Witness 4, took the stand today. He corroborated all the salient aspects of the evidence given by the previous witness who testified last week as Witness 19. He had described the suffering of his family in the village of Ratis near Decani. Witnesses 4 and 19 are brothers, testifying about how the KLA kidnapped their sisters in 1998. The first sister, designated as S, is still missing, while the body of the other sister, M, was found in a nearby forest soon after the kidnapping. She was riddled with bullets and had a number of stab wounds.
Both witnesses said that the accused Idriz Balaj, called Toger – lieutenant - was the "chief" of the soldiers in black uniforms who broke into their house on several occasions. They "forcibly mobilized" the two sisters saying that "every Albanian family had to have a fighter in the KLA". Unlike Witness 19 who was not able to "positively identify" the accused last week, Witness 4 recognized and marked Idriz Balaj a/k/a Toger as the commander of the "men in black" on the photo board he was shown by the OTP investigators in 2004.
According to the indictment, Balaj was the commander of a KLA special unit whose soldiers wore black uniforms and were known as the Black Eagles. Their HQ was in Rznic, a few kilometers away from the village where the two witnesses lived with their family. The indictment charges Balaj with having personally participated in the kidnapping, torture and killing of civilians as well as with torture and mutilation of detainees held in the KLA-run camp in Jablanica.
In the cross-examination, Balaj's American defense counsel, Gregor Guy-Smith tried to challenge the identification of his client, noting that the witness had seen Idriz Balaj on television at the trial of the Dukagjin group and had heard his nickname, Toger, at that time. That was before the OTP investigators showed him photographs in 2004. The defense counsel said that the word toger meant lieutenant in Albanian, implying that the "man in black" who had taken away the witness's sisters in 1998 whom others called "toger" could have been "any lieutenant".
In 2002, Balaj was sentenced to 15 years in prison at a trial in Pristina. Until his transfer to The Hague in March 2005, he was serving his sentence in the Dubrava prison.