Home
MILITARY JUDICIAL SYSTEM: WAS IT EFFICIENT?
Of over three thousand judgments against VJ personnel in Kosovo in the first half of 1999, some ninety percent pertain to draft-dodging and soldiers going AWOL. The rest are for crimes against civilians, but not murders, says Radomir Gojovic, testifying in Ojdanic's defense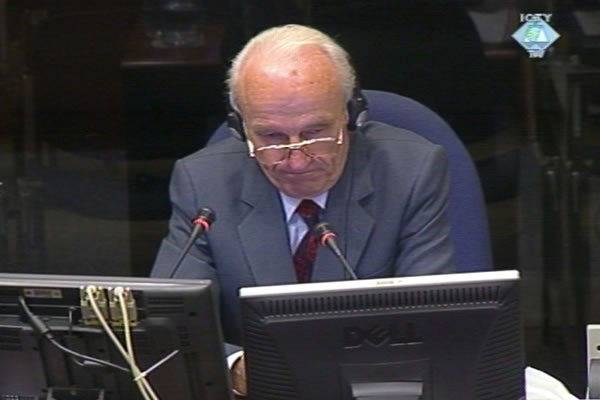 Radomir Gojovic, defense witness for Dragoljub Ojdanic
Dragoljub Ojdanic's defense today called Radomir Gojovic, former chief of the Legal Department in the VJ General Staff, to challenge the allegation in the indictment that the accused general had instigated the crimes against Kosovo Albanians 'by doing nothing to punish the perpetrators'. Retired general Gojovic claims that in mid-April 1999 Ojdanic asked him to do everything he could to streamline the military judicial system. After that, the witness said, 20 military courts and 20 military prosecutor's offices were established at the VJ unit commands throughout the FRY. Such courts and prosecutor's offices were set up in the commands of the 3rd Army and Pristina Corps.
In September 1999, a few months after the end of the war, Gojovic drafted a report on the results achieved by the military judicial system. The report went to the General Staff. In the report he notes that during the war in Kosovo the military courts convicted more than three thousand army personnel. Eighty-eight percent of the cases deal with draft-dodging and soldiers going AWOL. The remaining 12 percent concern cases of war crimes against Kosovo Albanians. In the cross-examination, Gojovic admitted that none of the judgments were for murders of civilians.
In February 2000, Ojdanic became the federal defense minister and Gojovic got transferred to the Legal Administration in the Ministry. Ojdanic then asked him to 'collate the date' on the work of the military courts in wartime. He was wondering about the discrepancy between the large number of Albanian civilians killed and the small number of perpetrators who were identified. Gojovic learned that in the period from the end of the war until that time, thirty-nine VJ servicemen had been convicted in a total of eleven cases, The highest sentence was fourteen years in prison. There is not a single VJ officer among the convicted: only soldiers and a non-commissioned officer.
A possible explanation, according to Gojovic, could be that civilians were murdered only by soldiers who were 'out-of-control renegades'. It was difficult to prosecute crimes in Kosovo because the perpetrators 'were good at hiding' and access to witnesses was difficult.
The trial of Milan Milutinovic, Nikola Sainovic, Dragoljub Ojdanic, Nebojsa Pavkovic, Vladimir Lazarevic and Sreten Lukic for crimes in Kosovo in 1999 will continue tomorrow.