Home
KOSOVO TRIAL ADJOURNED UNTIL FALL?
Prosecution indicates it will rest in March, and the defence counsel for the Kosovo Six call for four months to prepare for their case. If the Chamber agrees to their demand, the defence case might begin in late summer or early fall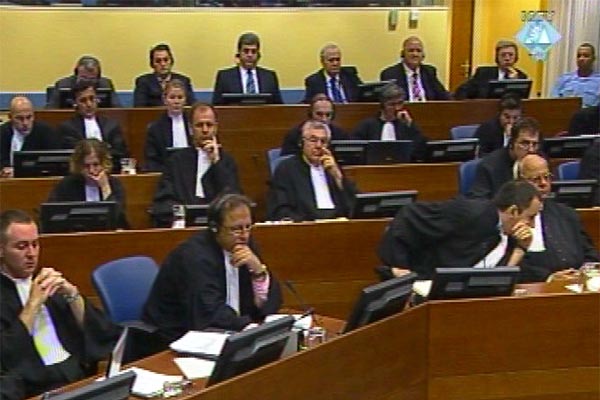 Milan Milutinovic, Nikola Sainovic, Dragoljub Ojdanic, Nebojsa Pavkovic, Vladimir Lazarevic and Sreten Lukic in the courtroom
Although the prosecution has indicated it might rest its case by the second half of March, the end of the trial of the six Serbian officials charged with crimes against Kosovo Albanians is nowhere in sight. At the hearing today, the defence counsel asked for a four-month adjournment in order to be able to "prepare better" for the defence case. This should make it possible to cut down the time needed to present their evidence, they claim.
The defence counsel need the time to proof their witnesses and to persuade some of them to take the stand. "The witnesses' efforts to evade testifying before court has grown to epidemic proportions", noted Toma Fila, representing Nikola Sainovic.
If the Chamber granted the defense's demand, the prosecution would get the witness list in four months. The prosecutor indicated that his team would need another adjournment to prepare for the cross-examination of the witnesses. The defence case should thus begin in late summer or early fall of 2007 in that case.
Although the presiding judge noted that he found it "hard to imagine" that the Trial Chamber would grant such a long period for the preparation of the parties, he did not rule out the possibility that the trial might be adjourned, without specifying dates.
The only thing that is certain is that soon after the prosecution rests, the Trial Chamber will decide whether to acquit any of the accused on the counts of the indictment that have not been proven by the prosecution. Both parties will present oral and written arguments on this issue.
The prosecution case which is now in its final stage will continue on Monday, 19 February.