Home
GENERAL OJDANIC WAS "PHLEGMATIC"
Former British military attaché claims that General Ojdanic knew in 1998 that the military was shelling Kosovo villages in joint actions with the police. His reaction to this was "phlegmatic". The witness thinks that force had to be used against "the terrorist KLA", not against civilians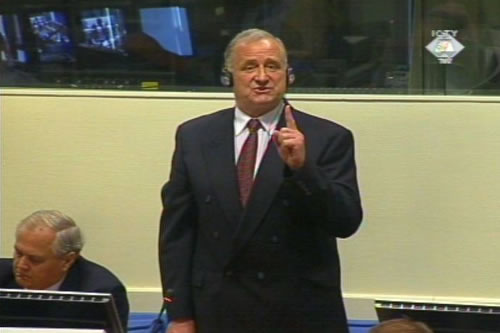 Dragoljub Ojdanic in the courtroom
John Crossland, former British military attaché in Belgrade, is testifying with image distortion as a protective measure at the trial of six political, military and police officials from Serbia. He believes that the majority of Kosovo Albanians wanted to live normally together with their Serb neighbors without the Serbian army and police but also without Kosovo Liberation Army (KLA). In his opinion, the excessive use of military and police force and targeting civilians made the Albanian population side with the KLA as time went by.
The witness says that in the beginning the KLA was a terrorist organization. In his opinion, it was appropriate for the police to deal with it, but not for the military. Yet the joint military and police operations did not look like operations to deal with the terrorists at all, he said. "If you raze markets, petrol stations, shops and crops to the ground and expel all villagers from a village because the KLA had been there, this is not the best way to win over the hearts of the population," he clarified.
The attack on Malisevo in the summer of 1998 is a case in point. After the shelling of this village, about 30,000 Albanian civilians took refuge in the Pagarusa valley. The same summer the witness saw the shelling of Suva Reka and a number of villages near Decani: Glodjani, Prilep and Junik. The military and police artillery razed some of the villages to the ground. The attacks were filmed by a British officer who was with Crossland at the scene. Crossland gave the video tape of the shelling to General Ojdanic in late August 1998. Ojdanic was a member of the VJ General Staff. Crossland wanted to show him the excessive use of force and the unconstitutional involvement of the military in police operations. According to the witness, Ojdanic's reaction was "phlegmatic". He said "the force would be answered by force". The copy of the video recording is no longer in the witness's possession as it was given to Ojdanic.
Crossland claims that in the fall of 1998 Momcilo Perisic, Chief of General Staff, and Aleksandar Dimitrijevic, head of military intelligence, confirmed that the army was using excess force in dealing with the KLA. The two were removed from their posts immediately afterwards. In their conversations, the witness learned that the two of them were excluded from the chain of command, because Nebojsa Pavkovic, the Pristina Corps commander was "reporting directly to Slobodan Milosevic".
John Crossland will be cross-examined tomorrow..