Home
HUNTERS AND PREY
Dutch colonel Patrick Van der Weijden who wrote the expert report on twelve sniper incidents takes the stand at the trial of six former Herceg Bosna officials. He confirms the prosecution allegations and witness testimony on the possible existence of sniper nests in several locations. The defense counsel claim the witness is not competent for the task he was given.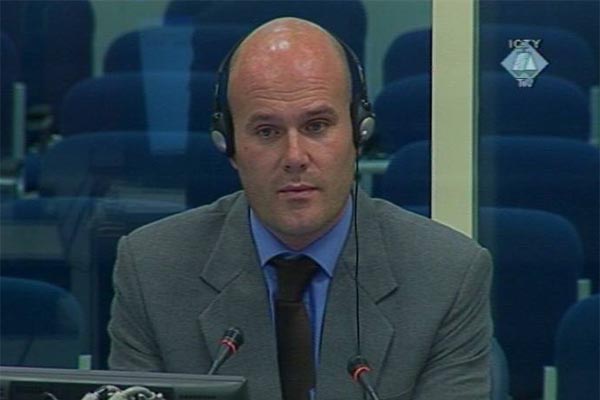 Patrick Van der Weijden, lieutenant in the Dutch Army
Dutch colonel Patrick Van der Weijden confirmed that based on his observations there had been so-called "sniper nests" in at least four locations in Mostar: in a building called Ledenik, at the Stotina hill, in the Spanish Square and in the so-called "glass building".
All four sites were in the territory controlled by the Croatian Defense Council at the time the incidents occurred. Some of them, such as Stotina, were identified by the victims in their testimonies as possible sniper positions.
Van der Weijden is an instructor of sniper operations in the Dutch Army. In the course of his examination in-chief he explained to the judges and counsel some technical details related to the use of various types of weapons. He compared snipers with hunters, and sniper operations with hunting. Both snipers and hunters use similar techniques to stalk their prey.
The defense counsel representing the six former Herceg Bosna officials reiterated their view that the witness was not expert enough. "All he can say is pure speculation" as he is neither a ballistics expert nor an expert in forensic medicine. According to them, the witness did his report on twelve sniper incidents in Mostar without knowing where the demarcation lines and the positions of the HVO, BH Army and VRS were located. VRS had positions around Mostar too.
The defense counsel quoted from the textbook used by the FBI in its advanced sniper course to the witness. "Everybody on the other side of line is an enemy", the book says. Snipers "don't have to worry about the consequences of their shooting at targets".
The witness said he was familiar with the contents of this book but that he personally didn't agree with the methods. In any case he thinks that "the material" there refers to war situations where there are no civilians.
Van der Weijden's cross-examination continues on Monday. The Trial Chamber called the end to today's session a little earlier than usual because of severe weather in Holland, but later than the other trial chambers. As presiding judge Antonetti said, "a couple of centimeters of snow" could not stop "the course of international justice".