Home
GRANDFATHER AND HIS GRANDSON "SENTENCED" TO DEATH BY FIRING SQUAD
The trial of former Herceg Bosna leaders continues with the evidence of a protected prosecution witness. In late June 1993, he survived the execution en route to Dretelj. The witness lays the blame for the incident in which his grandfather was killed and he himself seriously wounded on the Croatian Defense Council military police. He also blames them for the abuse and torture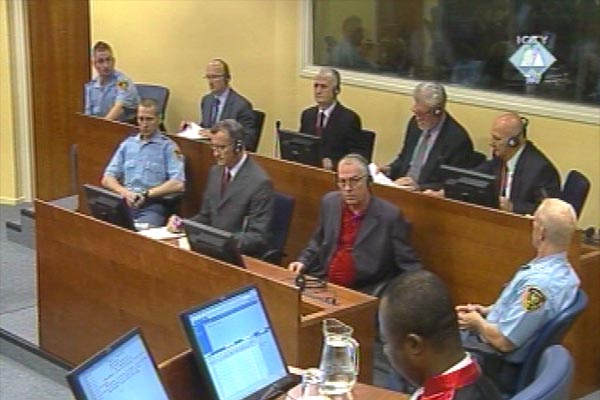 Jadranko Prlić, Milivoj Petković, Bruno Stojić, Slobodan Praljak, Valentin Ćorić i Berislav Pušić u sudnici Tribunala
The prosecution continued its case at the trial of the six former Herceg Bosna leaders with the evidence of a protected witness. In late June 1993, he survived the execution en route to Dretelj. The witness lays the blame for the incident in which his grandfather was killed and he himself seriously wounded on the Croatian Defense Council military police.
The witness described in court how the HVO military police had broken into his family home in Buna in late June 1993, arresting his father and neighbor. They were taken to the camps in Dretelj and Heliodrom together with other men of military age. The HVO military police then returned to get two other family members: the grandfather and his grandson.
They were taken to the basement of a house where the HVO military police was stationed, the witness recalled. There, they beat them, punching and kicking them. Then they ordered the witness to strip down to the waist and then beat him with a electric cable. The same evening, they took the two of them out into the yard, put buckets on their heads and laughed as they banged on the buckets with various objects.
After the mistreatment, they were taken to Dretelj. They were told they were being taken to the camp, but at one point, two military policemen stopped the truck, taken them out and ordered them to turn their backs to them.
"All I felt," the witness recalled, "was the impact of the bullet in my back, and then falling into the abyss, towards the Neretva river". He rolled down into the brush by the river. He lay low for a while there, listening to his grandfathers' death rattle. His grandfather lay a few meters away. The last thing he remembered was the torchlight in his face and one of the police officers saying, "it's over, this one's dead too". The police then went back to the road and drove off. The witness was found by the Red Cross and was transferred to the Capljina hospital. He underwent surgery there and was the transferred to Split.
In his examination-in-chief, the witness identified some of the HVO military police officers who had taken part in the arrests or mistreatment of the Muslim prisoners from Buna. This part of his testimony was taken in closed session, as was the entire cross-examination.
The trial continued with the testimony of yet another protected prosecution witness, testifying about the murders of the captured men in Rastani, part of Mostar.