Home
A BULLET IN THE BACK OF A NINE-YEAR OLD BOY
Belkisa Berisha took the stand at the trial of six former Herceg Bosnia leaders today. Her son, was killed on 2 February 1993. He was nine years old. He was hit in the back by a sniper bullet which came, according to the witness, from the HVO positions at Stotina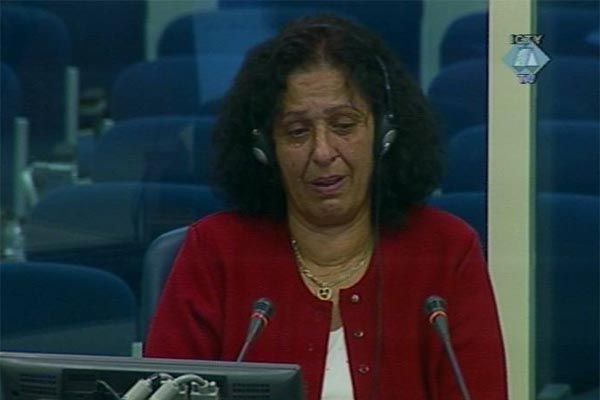 Belkisa Berisa, witness in the trial of the former Bosnian Croat leaders
Nine-year-old Orhan Berisha was killed by a sniper bullet on 2 February 2003. He was shot in the back in front of the stairwell of the building he lived in in East Mostar. Today, at the trial of six former Herceg Bosna leaders, his mother Belkisa Berisha said that the shot that had killed her son had come from the HVO positions at Stotina.
The witness described how on that day Orhan had been playing with the neighborhood children in the basement of one of the buildings next door. He was shot in the stairwell of the building he lived in, just as he was going home for lunch.
"We knew about sniper attacks from Stotina and we kept on warning the children to be careful," she said. As a consequence, she continued, her son and other children lived "from basement to basement" in that period. Two more children were killed by snipers in the immediate vicinity of the spot where her son was killed.
Firefighter Dzemal Barakovic testified today before Belkisa Berisha. On 30 October 1993 he witnessed the wounding of Stojan Kacic. He was injured when he tried to help a sniper victim. The witness claimed the shots had been fired from the so-called "glass building", a Privredna banka building in the territory controlled by the HVO.
Barakovic described the atmosphere in East Mostar at the time of the Croat-Muslim conflict in 1993. He felt that "the snipers were the worst". For him and the rest of the inhabitants of East Mostar there was only "night life". In the daytime they lived in constant anguish and fear for their lives.
As the case continued, the court heard Elvir Demic, another firefighter. In September 1993, he saw when his colleague was wounded as they tried to put out a fire in one of the districts of East Mostar.