Home
WITNESSES TAKE CLOTHES AND SHOES OFF IN COURT
Victims of sniper attacks in Mostar had to take off their clothes and shoes to show their scars to the judges, the defense counsel and the accused. In some cases they had to do it again because the defense was not satisfied the first time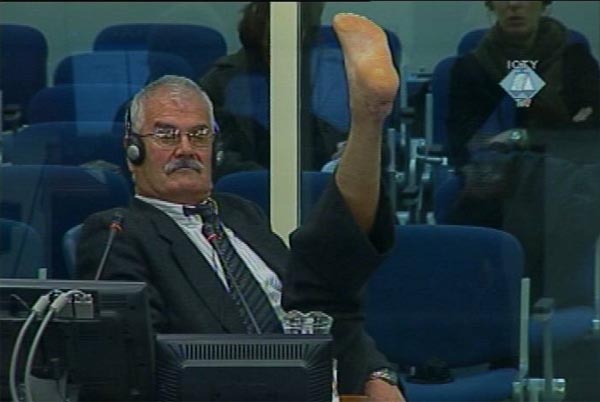 Munib Klaric, witness in the trial of the former Bosnian Croat leaders
Victims of the "sniper war" in Mostar testifying today had to take their clothes and shoes off in the courtroom to show their scars to the judges, the defense counsel and the accused. The witnesses assume they were shot from the HVO positions on the Stotina hill.
[IMAGE]2448[/IMAGE]In September 1993, Damir Katica was wounded in Donja Mahala, a part of Mostar, just as he was going to a shelter. He was only twelve years old, but according to the accused Slobodan Praljak, "this was neither too much nor too little". Praljak refrained from explaining what he meant by that. The witness is sure the shots that wounded him in the abdomen and hand came from the HVO sniper position on Stotina.
Munib Klaric, the next witness, shares his opinion. He went to fetch water from the Neretva on 10 October 1993. He was wounded by a sniper in his heel. At the moment he was shot he had his back turned to the Neretva and the hill on the other bank. He is therefore not "one hundred percent" sure where the bullet came from. He supposes he was hit by a sniper from Stotina.
Klaric took off his shoes in the courtroom several times during today's hearing to show his scars. Some defense counsel found it "not clear enough" and the witness had to approach General Milivoj Petkovic's attorney, take off his shoes in front of him and show him his scars up close.
Michael Karnavas, Jadranko Prlic's defense counsel, didn't have any questions for this witness but didn't miss the opportunity to thank him "for traveling this far just to say you didn't know where you were shot from".
As usual, General Praljak, one of the accused, had a lot of questions to ask. It was much more probable, he claims, that the bulled that hit Klaric had come from the direction of Hum, and not Stotina. The witness told him "you won't confuse me, General" at one point, and repeated he was not a ballistic expert. He could only guess where the bullet that hit him was fired from, and the Tribunal should determine the truth, he said. He added he would gladly have coffee with the man who shot him. "I'd forgive him but not forget," he said.
The trial of six former Herceg Bosna leaders continues tomorrow. The court will hear two more victims of the Mostar "sniper war".