Home
DEFENSE: TWO THOUSAND CRIMINAL REPORTS FILED FOR CRIMES IN KOSOVO
The defense counsel for police general Sreten Lukic claims that during the war in Kosovo the Interior Ministry filed about two thousand criminal reports against the perpetrators of the crimes in Kosovo. Aleksandar Vasiljevic, the then deputy chief of military intelligence service, insists he heard of only sixteen such cases; he was told about them by Minister Vlajko Stoiljkovic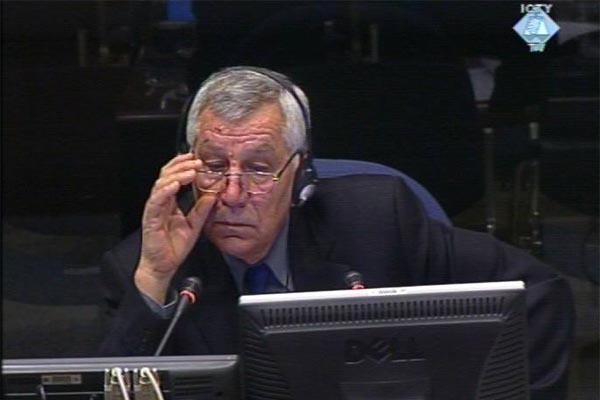 Aleksandar Vasiljevic, witness in the trial of the former Serbian officials charged with crimes in Kosovo
As the cross-examination of General Aleksandar Vasiljevic continued, Nebojsa Pavkovic's defense counsel tried to challenge the allegations that his client had agreed to activate the army in Kosovo in contravention of the law. In his examination-in-chief, Vasiljevic said that Pavkovic had complied with Milosevic's request to deploy the army in combat in Kosovo despite the fact that this could not legally be done without declaring the state of emergency first. Chief of General Staff Momcilo Perisic refused to do so and was relieved of his command.
In an attempt to prove that Perisic did not refuse Milosevic's request, Pavkovic's attorney confronted the witness with the order issued on 29 July 1998 in which the chief of staff requested that the army come out of the barracks to assist the police in "smashing the terrorist forces". But Vasiljevic explains it was nothing but a "combat plan". This plan could only be accomplished after the declaration of the state of emergency by an order of President Milosevic or the Supreme Defense Council.
In the examination-in-chief, the witness said that the Interior Ministry Staff in Pristina, headed by the accused Sreten Lukic, had refused to form a joint commission with the military to investigate the crimes against Kosovo Albanians. The defense counsel however contended that the police itself, in the course of Kosovo war, had filed almost 2,000 criminal reports against the perpetrators: 629 civilians, 112 soldiers and 1,000 unidentified perpetrators.
Vasiljevic responded that he was told by the Interior Minister Vlajko Stoiljkovic after the war that the Interior Ministry had processed only 16 cases. This figure is nowhere near to that mentioned by Lukic's defense counsel. The indictment alleges that general Lukic, as the Chief of Staff of the Interior Ministry for Kosovo, was under the obligation to "protect human lives, prevent criminal offences and arrest the perpetrators thereof".
Aleksandar Vasiljevic's testimony will end tomorrow. The next two witnesses to take the stand should testify under protective measures.