Home
POLICE KILLED, MILITARY SAID NOTHING
An insider is testifying about the killings and expulsions of Albanian civilians from Korenica, Meja and other villages in the Djakovica area with a number "clarifications" and warnings. The witness, testifying under pseudonym K-90, says that the civilians from Meja and Korenica villages were expelled and killed by the police. The commander of his VJ unit saw everything but didn't do anything to prevent it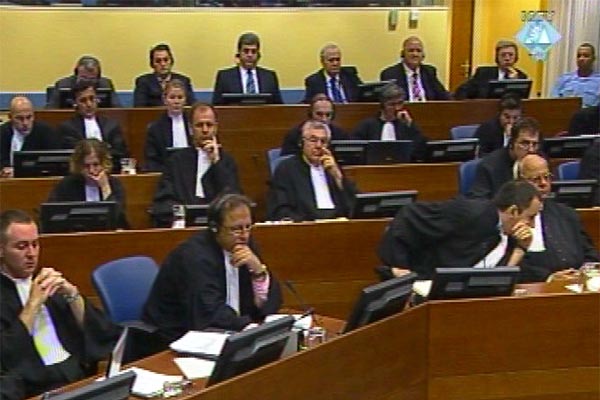 Milan Milutinovic, Nikola Sainovic, Dragoljub Ojdanic, Nebojsa Pavkovic, Vladimir Lazarevic and Sreten Lukic in the courtroom
"The army expelled the Albanians and their villages were empty, as if an atomic bomb had exploded. The soldiers were moving through, taking anything that was not nailed down." This is how the protected witness, testifying under pseudonym K-90, described the situation in Djakovica area at the end of March and the beginning of April 1999 in his statement to the OTP in 2002. In his testimony today he insisted on certain "clarifications" and tried to protect the army he had served as a volunteer.
Contrary to his previous statement, today the witness said that the Albanian houses were not looted by the soldiers but "by individuals the military could not have seen". Had they been caught, "they would have fared badly". The witness tried to blame "poor translation" for the difference between the statement he had signed previously and the one he made in court today. The presiding judge did not accept the explanation. It seems, he said, that the witness "is not doing all he could" to speak "the truth and nothing but the truth" in court.
As K-90's evidence continued, it was obvious that he had taken the presiding judge's warning to heart. Continuing his evidence about the events in Meja and Korenica, he spent less time "clarifying" his previous statement and more expanding on it.
On the morning of 27 April, the witness says, his unit sent up a check-point on the southern access road to Meja and Korenica villages. The operation was conducted by the Serbian Interior Ministry forces, including the Special Operations Unit and the Special Units of the Police. From the checkpoint, the witness claims he could see the police expelling Albanians from the two villages and separating men from the refugee column to kill them. On the orders of his commander, a VJ major, he approached the police officers and asked them what was going on and why they were killing those people. The police officer answered, "We're skinning the Shiptars". According to his evidence, the major was not pleased with the police's conduct, but he didn't do anything to prevent it. In the village of Meja, the police officers threw dead bodies into the houses and then set fire to them. A while later on the same day, the witness went towards Djakovica and at the entrance to the village of Korenica, the witness described, he saw four dead civilians including a woman. According to the indictment, more than one hundred persons were killed and thousands expelled on that day in Meja and Korenica.
The witness K-90, testifying with voice and image distortion, will be cross-examined tomorrow by the defense counsel of the accused Milan Milutinovic, Nikola Sainovic, Dragoljub Ojdanic, Nebojsa Pavkovic, Vladimir Lazarevic and Sreten Lukic.