Home
NEGOTIATIONS AS A 'FIGHT FOR SURVIVAL'
Adnan Merovci, witness for the prosecution, describes the meeting between Slobodan Milosevic and Ibrahim Rugova in April 1999 not as negotiations but as 'a fight for survival', indicating that it did not end with an agreement – as stated by the Serb authorities – but with a press release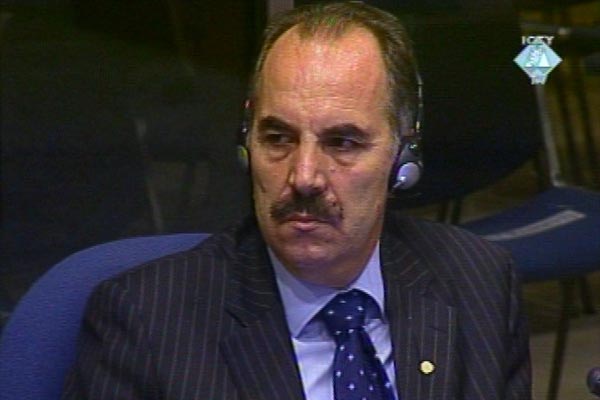 Adnan Merovci, witness in the trial of the former Serbian officials charged with crimes in Kosovo
Testifying at the trial of six Serb officials indicted for crimes in Kosovo, Adnan Merovci describes all meetings held by unofficial Kosovo president Ibrahim Rugova with the representatives of Serb and federal authorities. Merovci attended the meetings as a personal secretary to Rugova, who was the president of the Kosovo Democratic League (DSK). Today Merovci recapitulated most of the evidence he had given in May 2002 at the trial of Slobodan Milosevic. He noted that he and Rugova had not gone to Belgrade of their own free will but were forced and threatened to do so. These were not negotiations, then, he contends, but a 'fight for survival'.
On 31 March 1999, a week after the NATO intervention, the witness happened to be in Ibrahim Rugova's house when the police broke down the door to get in. This marked the beginning of a one-month captivity of the president of DSK and his family . Next day the police transferred Merovci and Rugova to Belgrade for a meeting with Slobodan Milosevic. At the meeting, the two of them signed a brief text about their 'mutual commitment to a political process'. The Serbian authorities claimed this was an agreement, but Merovci says it was nothing but a press release, a 'previously prepared statement signed by president Rugova against his will in fear for the security of his family'. The same was alleged by Rugova in his testimony in May 2002 at the Milosevic trial.
Rugova, accompanied by Merovci, met Milosevic next on 4 May 1999 when the president of Yugoslavia allowed President Rugova and his family to leave for Italy. Until then Rugova and Merovci were under house arrest. They were allowed to leave only to attend meetings with other high-ranking Serbian and federal officials. Two of the accused – Milan Milutinovic and Nikola Sainovic – were among them. Merovci says they both remained loyal to President Milosevic to the very end. Like him, they persisted in denying the crimes committed by Serbian forces Merovci and Rugova brought to their attention.
On 16 April Merovci attended another such meeting. As he claims, he then told the Serbian president Milutinovic that the police was expelling the Albanian civilians from Kosovo. Milutinovic then turned to Nikola Sainovic, deputy prime minister in the federal government, and the man in charge of Kosovo, asking him if it was true. According to Merovci, Sainovic just 'kept shaking his head in an attempt to show his astonishment' but gave no answer.
The witness claims that, in 'a frank conversation', he warned Sainovic that one day he could find himself indicted by the Tribunal for ordering the attack on the village of Racak. Sainovic retorted that Racak was 'a game by William Walker, head of the OSCE-run Kosovo Monitoring Mission'.
The cross examination of the witnesses began today and will be finished tomorrow. The next witness will be Aleksandar Vasiljevic, former high-ranking officer in the military security service.