Home
POLICE CHIEF OR "LAST HOLE IN THE FLUTE"?
At the end of his five-day testimony, General Aleksandar Vasiljevic explained why five years ago he had told the prosecution in a statement that the accused general Lukic was "the last hole in the flute" whereas now he described him as the police commander during the war in Kosovo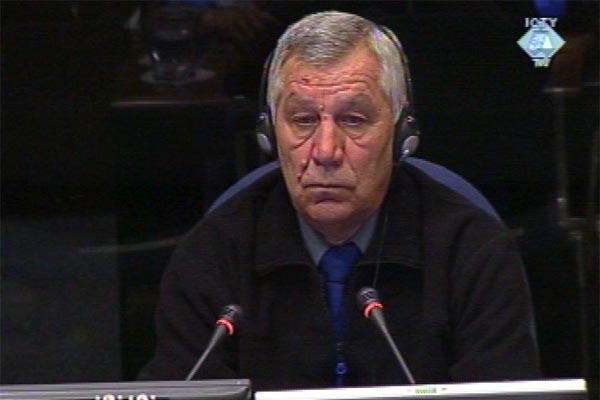 Aleksandar Vasiljevic, witness in the trial of the former Serbian officials charged with crimes in Kosovo
The last day of General Aleksandar Vasiljevic's testimony at the Kosovo Six trial was devoted to attempts to determine the exact roles of the accused Milan Milutinovic and Sreten Lukic. The witness agreed with Milutinovic's defense counsel that as the president of Serbia he was not the superior of either the interior minister or the police. However, Vasiljevic did remind the court that at the time Milutinovic had been a member of the Supreme Defense Council, a body that could decide on the use of the Yugoslav Army units.
In his examination-in-chief, Vasiljevic described the accused Sreten Lukic as a person who was in command of all the police units in Kosovo during the 1999 war. To illustrate the point, he described the meeting of the Joint Command on 1 June 1999 in Pristina, where Lukic briefed Nikola Sainovic about the police activities. Lukic's defense counsel brought to the court's attention the fact that his claims today differed from the ones he had made in a statement to the prosecution in November 2001. On that occasion, he said that General Vlastimir Djordjevic (currently at large) held a briefing at the meeting. Judging by the place he was assigned at the table, Lukic was "the last hole in the flute".
The witness explained that he had given the statement to the prosecution five years ago in "an entirely different atmosphere", primarily because at that time he had been a suspect for the crimes in Croatia in 1991. That is why he was careful in his answers about that period, speaking about Kosovo in passing. He claims that before giving evidence at this trial he had checked his notebook containing notes from that meeting, confirming that Lukic had briefed Sainovic, not Djordjevic. This led him to change his assessment of Lukic as "the last hole in the flute". The witness said he was ready to give his notes from the meeting to the prosecution.