Home
REASONS FOR EXCLUDING THE CRIMES IN RACAK, DUBRAVA AND PADALISTE FROM THE INDICTEMENT
The Trial Chamber publishes its written statement of reasons for the decision to exclude the crimes in Racak, Dubrava and Padaliste from the indictment against the former Serbian officials. In the opinion of the Chamber, the prosecution can adequately argue its case even without calling any evidence on the three locations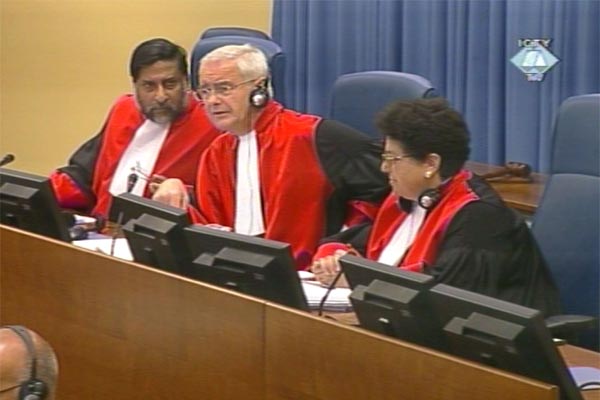 Trial chamber in the case of the six former Serbian officials
The Chamber hearing the case against the six former Serbian officials, charged with the crimes in Kosovo, has published the written statement of reasons for its decision to exclude the crimes in Racak, Dubrava and Padaliste from the indictment; the prosecution needs not to call any evidence on those events.
The prosecution case, the judges note, is "fundamentally one alleging ethnic manipulation or modification of Kosovo's population through deportation and forcible transfer and associated acts of persecution, including murder". The killings in Racak, Dubrava and Padaliste, the Chamber has found, are not linked with the deportations or forcible transfer, and the locations are not in the 13 municipalities the prosecution has selected as representative for its case. The remaining 9 mass murder sites – such as Bela Crkva, Suva Reka, Mala Krusa, Izbica or Meja – in the opinion of the Chamber "adequately reflect the scale of the alleged criminal activity" and are "representative of the crimes charged in the indictment".
Depending on how the trial develops, if the Chamber conclude that it would be necessary to hear the evidence in order to be able to get a full picture of the events in Kosovo, the Chamber may decide later to allow the prosecution to call evidence on all or some of the three incidents.
The judges stress that the decision "can in no way be construed as a view of the Chamber that the events in the three locations are less significant than others or not representative at all for the prosecution case". The Chamber merely holds the view that the prosecution can adequately argue its case even without calling the evidence on the crimes in Racak, Dubrava and Padaliste.