Home
THE POINT OF THE EVIDENCE ON A CRIME THAT IS NOT IN THE INDICTMENT
At the end of the testimony of the former Scorpion, the presiding judge wonders aloud why the prosecution called evidence on a crime not alleged in the indictment. The prosecutor explains that he wanted to show that the accused Serbian officials in Kosovo had used units "they knew had committed crimes in previous wars" and to highlight the "failure to punish"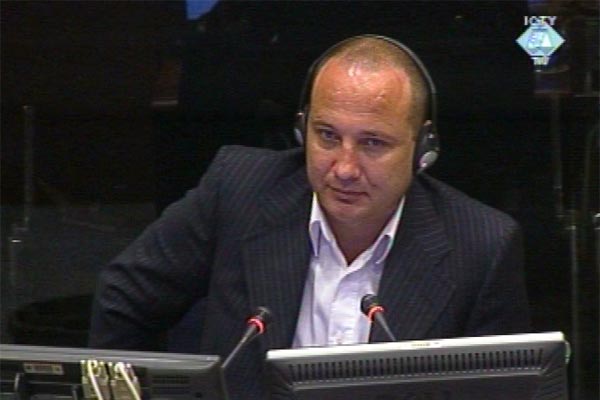 Goran Stoparic, witness in the trial of the six former Serbian political, miltary and police officials
At the end of the two-day testimony by former Scorpion Goran Stoparic, Judge Bonomy wondered about the point of his evidence, since the events he testified about are not alleged in the indictment against the six former political, military and police officials from Serbia. In his view, such a crime should have been alleged in the indictment.
Prosecutor Hannis replied that in May 1999, when the Kosovo indictment was issued against Milosevic and four of his close associates, the prosecution was unaware of the murder of 19 Albanian civilians – 12 children and 7 women – in Podujevo on 28 March 1999. He was unable to explain, though, why the crime was not included in the amended indictment against Milan Milutinovic, Nikola Sainovic, Dragoljub Ojdanic, Nebojsa Pavkovic, Vladimir Lazarevic and Sreten Lukic.
Through the testimony of the former Scorpion, the prosecutor wanted to show that in Kosovo the accused had used units "they knew had committed crimes in previous wars – in Croatia and BH" and to highlight the "failure to punish".
The last few questions the prosecutor asked Stoparic dealt precisely with the "failure to punish". The commanders of the Special Anti-terrorist Unit of the Serbian Interior Ministry – and the Scorpions were part of this unit – sent the volunteers, who were originally from Sid, back to Serbia immediately after the crime in Podujevo, and Stoparic expected they would be punished. Yet, all of them, including three of the four direct perpetrators of the massacre, were brought back to Kosovo after some fifteen days, as if nothing had happened.
For obvious reasons, Sreten Lukic's defense counsel took longest to cross-examine Stoparic. At the time relevant for the indictment, Lukic was the commander of all he Interior Ministry (MUP) forces in Kosovo, including the Special Anti-terrorist Unit (SAJ). The witness confirmed that the SAJ commanders had not ordered them to open fire on the civilians in Podujevo. When asked by the defense counsel whether the murder in Podujevo was a "personal act" by the SAJ member referred to as No. 1 in the courtroom today, Stoparic said that "one could say that", although he didn't think that No. 1 was the mastermind".
Former Scorpion Sasa Cvjetan was sentenced to 20 years in prison by a Belgrade court for the crime in Podujevo. His sentence was confirmed by the Supreme Court.
After Goran Stoparic ended his testimony, Fred Abrahams, a researcher of the Human Rights Watch organization, took the stand. In 1998 and 1999, he investigated the human rights violations in Kosovo.