Home
MIDDLE AGES IN THE 20TH CENTURY
Dr. Simon Mardel testifies about the catastrophic humanitarian situation in Srebrenica in early 1993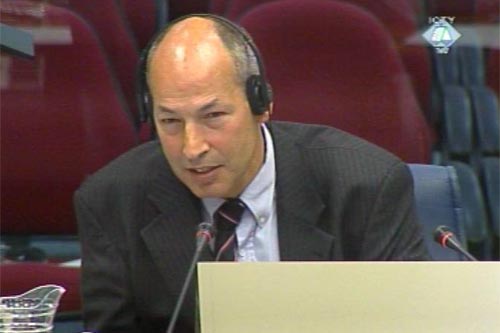 Simon Mardel, defense witness for Oric
"Srebrenica looked like a medieval town. I'd never seen anything like that in my life, not even when I was working in Afghanistan and with the refugees in Ethiopia," Dr. Simon Mardel said today, testifying as Naser Oric's defense witness. Dr. Mardel, who was working for the World Health Organization at the time, testified about his first visit to Srebrenica in early March 1993, when he managed to get into the town through the woods and snow with a few armed Srebrenica men.
The houses were full of people and there was not enough room in them for everyone, so people lived in municipality and school buildings. "Some families lived in the hospital together with their sick or wounded relatives."
Mardel said that the humanitarian situation in Srebrenica was catastrophic, that he had been told 20 to 30 people died of starvation and starvation-related illnesses every day. He was able to see for himself that this was the case. "I saw many cases of pneumonia that were the consequence of malnutrition," the witness said, adding that the people's immunity was low. Mardel showed photographs he had made in Srebrenica to illustrate the point. They show the starving inhabitants of the town.
Apart from hunger, there were other factors causing the increase in the death rate: "The snow, the cold, lack of fuel, unclean water, stress, but above all, lack of medicines and medical supplies," he said.
In the cross-examination, Mardel said he had not seen the accused Oric in Srebrenica, that he had never heard of him during his stay in the town and that no one had ever named anyone as the commander of the armed forces. When the prosecutor asked him if he knew anything about the existence of the war presidency, the military police and the command staff of the military forces in Srebrenica, Mardel said he didn't.
Oric's trial will continue next week.