Home
KRAJISNIK'S DEFENSE SEEKS ACQUITTAL AGAIN
Krajisnik's lawyer asks for the quashing of the Trial Chamber's decision that the prosecutor had presented enough evidence of Krajisnik's responsibility for the crimes in BH and that the trial should continue with the defense case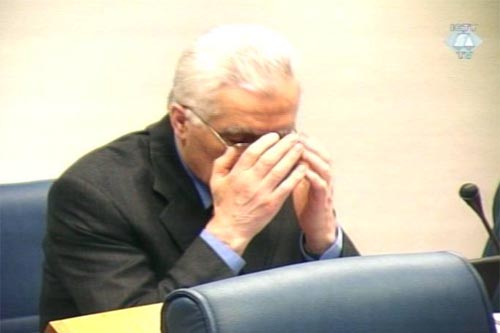 Momcilo Krajisnik in the courtroom
In the opinion of Momcilo Krajisnik's defense, the Appeals Chamber should order that he be acquitted of all charges in the indictment. There would thus be no need for him to present his case.
Krajisnik's lawyers ask for the quashing of the recent Trial Chamber's decision that the prosecutor had presented enough evidence of Krajisnik's responsibility for the crimes in BH and that the trial should continue to give the defense the chance to challenge the allegations.
The defense asks for a hearing before the Appeals Chamber and proposes that either the Trial Chamber's decision be quashed or that the defense be allowed to submit a new motion for acquittal in writing.
The motion for acquittal should have been considered in accordance with the old version of Rule 98bis because it would have allowed the defense to file detailed arguments on every part of the indictment, the defense notes, adding that the amended version of the rule envisages only oral motions.
The defense argues, among other things, that the judges' made unreasonable decision when they concluded that the prosecution had presented sufficient evidence indicating it was possible that genocide was committed against Bosnian Croats.
As a third solution, the defense proposes that the Trial Chamber be ordered to reconsider in detail every element in the indictment and acquit Krajisnik of those charges where it finds that there is insufficient evidence.
The prosecution rested its case in July and the defense is set to start its case in October.