Home
KRAJISNIK HAS CASE TO ANSWER
The motion for acquittal filed by Momcilo Krajisnik's defense has been dismissed. The start of the defense case has been scheduled for 12 September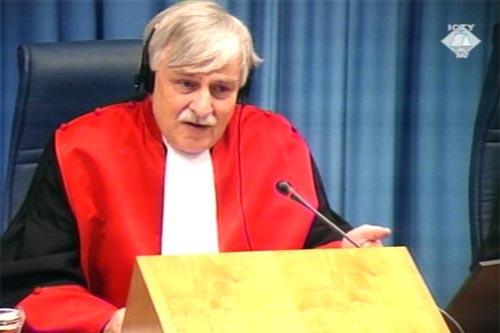 Alphons Orie, judge in the Tribunal
Momcilo Krajisnik will have to answer all the counts of the indictment in his defense case, the Trial Chamber decided today, dismissing the claim made by his defense that the prosecution evidence did not prove the charges and that Krajisnik had no case to answer. The prosecution rested its case in July.
The defense made an oral request earlier this week for the former Bosnian Serb political leader to be acquitted, particularly of the charge of genocide against Bosniaks and Bosnian Croats. The Trial Chamber, having analyzed the prosecution case, concluded that there is enough evidence, which if uncontested by the accused, might lead to the conclusion that non Serbs had been targeted by the attacks in the municipalities where the SDS took over power and that there had been intent to destroy them in part as a group. The number of Bosniak victims was greater because their number in the municipalities was proportionately greater, the Chamber noted.
There is enough evidence that Krajisnik had effective control over the perpetrators of genocide and that he had responsibility for other offences described in the indictment, the Chamber concluded.
The defense case is scheduled to begin on 12 September, but there might be a slight delay.