Home
BEING IN GOVERNMENT PAYS, AND PAYS WELL
Radomir Neskovic, former vice-chairman of the Executive Council of the Serbian Democratic Party, testifies at the trial of Momcilo Krajisnik about "big business under the party's auspices". This big business made it possible for the SDS members to set up private businesses, build houses and buy apartments in Belgrade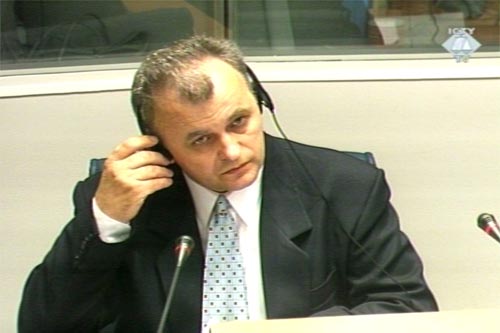 Radomir Neskovic, witness in the Krajisnik trial
"When you're in power, your have countless possibilities to get rich quickly and easily," former vice-chairman of the Executive Council of the Serbian Democratic Party (SDS) said today, testifying at the trial of his former party leader and Assembly speaker Momcilo Krajisnik.
The judges raised the issue of the relationship between power and riches, between politics and business. They noticed that Neskovic stated in his statement to the OTP investigators that he had asked the party to give him a loan to build a house. Presiding Judge Alphons Orie found that strange. As he said, such applications are usually made to "financial institutions, i.e., banks, not to political parties." Neskovic explained that there was nothing strange about it, at least when it came to the SDS, as "many people solved their private problems through the party; the party made it possible for them to set up their own businesses, build houses or buy apartments in Belgrade,"
Neskovic did not say that Krajisnik and Karadzic had gotten rich themselves, but claimed that "many who were on friendly terms with them gained immense personal fortunes," and that "there was big business under the auspices of the party; it bypassed official institutions and was done in a non-transparent manner." The party itself, he said in answer to the judges' questions, "was poor and there was not enough money in its legal accounts to pay for the per diems," but no one knows what happened to the money that came from various donors or from commissions on illegal oil trade.
To illustrate "big business under the party auspices," Neskovic gave the example of two companies: Javnost and Novi privrednik. The party, as the witness explained, had a 40 percent stake in Javnost while the 60-percent stake was in the hands of four persons: Radovan's wife Ljiljana Zelen-Karadzic, information minister Miroslav Toholj, a certain Kosic and a certain Veselinovic. Neskovic claims that to this day "it remains unknown what happened there and what money went through the accounts," because the party, owning a minority stake, did not have any control over Javnost and its secret operation.
The other company, Novi privrednik, was established in 1991 by Mirko Krajisnik (brother of the accused Momcilo) and Rajko Dukic. The firm was into "big business and big trade deals," including oil trade, mostly between Serbia and Croatia, whose economic relations had been severed because of the war. The party, as Neskovic explained, had nothing to do with Novi privrednik, but as far as he knew, "Momcilo Krajisnik was very close to that company."
Before the judges raised the issue of government and personal riches, Neskovic testified about the structure and functioning of the Serbian Democratic Party in 1991 and 1992. The accused Krajisnik, he said, was Radovan Karadzic's closest associate. The two of them had been on good terms even before the SDS was established. According to Neskovic, Krajisnik became the speaker of the BH Assembly thanks to his personal ties with Karadzic, who blocked the other candidates and insisted on his appointment.
Neskovic also testified about Karadzic's "intensive contacts with Slobodan Milosevic" between November 1990 and May 1993. Karadzic "was very selective in the way he provided information to the members of the SDS Main Board" about his conversations with the then president of Serbia. Some on the Main Board thought it was not good to rely so heavily on Milosevic. Momcilo Krajisnik had contacts with Milosevic too, but they were established later and were not as intensive and Karadzic's, Neskovic added.
Radomir Neskovic's testimony will continue.