Home
PROSECUTION SEEKS TO REOPEN CASE
Prosecutor in the case against Slobodan Milosevic considers that new evidence adduced at this stage in the proceedings would not affect the fairness of the trial or result in delays. Most of the fresh evidence that the prosecution seeks to present pertains to the war in BH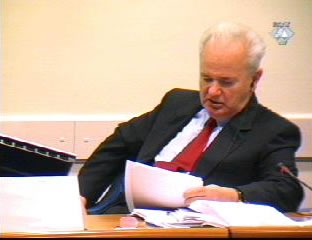 Slobodan Miloševic during the cross examination
In the case against Slobodan Milosevic, the prosecutor is seeking leave to reopen the its case in order to call six additional witnesses and tender 49 documents that were not available during the prosecution case, as the motion notes.
The evidence and witnesses pertain to the crimes in BH – with the exception of one witness who would testify about the VJ participation in the attack on the village of Racak in Kosovo. At least three of the remaining witnesses would be called to confirm the authenticity of the Scorpions video tape. The prosecution wants to tender the tape, together with the supporting material, in the reopened case, because it deems them to be of overwhelming probative value for its argument about the involvement of the Serbian MUP in BH. The remaining documents pertain to the ties between the VRS and the Yugoslav Army.
The prosecution is aware of the fact that after the prosecution has rested it can be allowed to reopen the case "only in exceptional circumstances when it is in the interest of justice," but in its view this is precisely the situation. "This is the first ever criminal trial against a former head of state charged with genocide," it is stated in the prosecution motion. "This trial must, so far as possible, create a complete and accurate historical record."
In light of the fact that Milosevic is in the middle of his defense case and that he is currently presenting evidence about the allegations in the Kosovo indictment, the prosecution proposes that the new evidence be adduced before the end of the Kosovo phase of the defense case; Milosevic would thus be able to prepare his response to the testimony of the prosecution witness who would testify about Racak. Milosevic will be presenting his evidence on the Croatia and Bosnia indictments later and he would thus be able to analyze during the summer the new prosecution evidence about BH, the prosecution contents. Therefore it believes that the new evidence adduced at this stage in the proceedings would not affect the fairness of the trial or result in delays.
After hearing the accused and his appointed counsel, the Trial Chamber will decide whether to grant the prosecution motion in full, in part or to dismiss it.